If the 1880s represent Mark Twain's best years, they also reflect his worst habits as a writer, and his dizzying capacity to spend time on everything but writing. When not socializing, Twain was preparing and giving speeches—on presidential politics, copyright law, foreign critics, war veterans, women, phrenology, billiards, or "What is Happiness?" According to this snapshot provided by Twain on January 14, 1884, even a quiet night's reading was a whistle-stop tour:
In English, the middle portion of the Bread Winners [an 1883 novel by John Hay]; all of Clarissa Harlowe; the closing chapters of Pamela; the third volume of Saint-Simon [his memoirs of France during Louis XIV]; the fourth volume of Evelyn; the second volume of Pepys [Evelyn was a diarist contemporary to Pepys]; the second volume of The Autobiography of a Whore; the third volume of Geike's Hours with the Bible; & in German, the second volume of Schiller (the poems, I mean), the third volume of the Thirty-Years' War; & the concluding chapters of Das Geheimniss der Alten Mamsell; in French, the tenth volume of Saint-Simon, and the fifth volume of Casanova. There—if none of this happy variety strikes you, you must be dam hard to please. I'm not a good person to apply to, because I seldom or never read anything that is new; & never read anything through, be it new or old.
The sideline writing projects were as scattered, and usually aimed at making quick money. While finishing Huckleberry Finn, he took time to write (and do 131 illustrations for) a longwinded satire called "1,002nd Arabian Night," never published. A book on Hawaii followed: "My billiard table is stacked up with books relating to the Sandwich Islands…." This did not get past page seventeen, perhaps because he was marketing his history game, or dramatizing Tom Sawyer, or collaborating on another sure stage hit, Colonel Sellers as a Scientist. "If the book business interferes with the dramatic business," Twain instructed Charles Webster, head of his new publishing company, "drop the former—for it doesn't pay salt; & I want the latter rushed." Such directives would help drive the publishing company to bankruptcy and Webster to his early grave.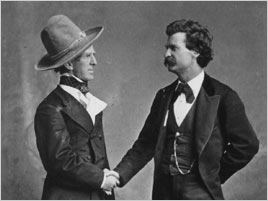 Colonel Sellers debuted in The Gilded Age, proving popular in both the novel and the play—the photo shows Twain shaking hands with John Raymond, who played the character on stage. Twain reincarnated Sellers often, seeing him as the archetypal American businessman-buffoon, a stock type for almost any comic plot. In Colonel Sellers as a Scientist, the madcap is going to make millions by reinventing fire, and then people: "I propose to reclothe the departed spirits and bring them back solid and substantial by simply using the enormous waste of human substance that's always going on." That Twain had a soft spot for the character but a blind spot for the same scatter-minded, money-dreaming characteristics within has intrigued all his biographers.
---
Steve King contributes Daybook to the Barnes & Noble Review and teaches in the English Department of Memorial University in St. John's, Newfoundland. His literary daybook began as a radio series syndicated nationally in Canada. He can be found online at http://www.todayinliterature.com.