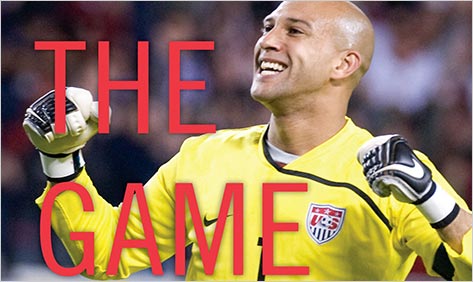 When soccer's World Cup was held in the United States for the only time back in 1994, the American version of what the world calls football was widely viewed as a joke, both here and abroad. We had no professional league, almost no media coverage (even that coverage snickered about how un-American and deadly-dull soccer seemed), and only a handful of American players eked out a living overseas. World soccer powers like Italy, Germany, and Brazil relished playing U.S. squads, which were considered hardworking but hopelessly overmatched. In "Chasing the Game," soccer journalist Filip Bondy entertainingly describes the highs and lows of soccer's beleagured history in the U.S.
For American fans of the game, something changed during that 1994 World Cup. Many (myself included) were inspired by the surprising success of the U.S. soccer team, which advanced to the knockout round and ultimately lost 1-0 to eventual champion Brazil. For Americans who fell in love with soccer then, including new fans like myself who also began playing (I was 29 and the world's worst player), we'd have to learn the game's hard lessons.
First, although soccer looks simple, it's tremendously difficult to develop the technical skills (i.e., adept passing, dribbling, and positioning) needed to compete with international players who've played from the crib. Patience is essential – you need to take your lumps and keep coming back for more. Second, winning soccer at any level takes not just technical ability and teamwork, but experience playing (and often losing) against great competition.
As Bondy shows, it's taken the U.S. national team years to transform from hustling, hapless underdogs to respected, seasoned contenders against players in some of the world's best pro leagues. Today, while the U.S. doesn't possess a deep pool of world-class soccer talent – we probably go 8-10 deep, whereas Brazil might go 50-100 deep – we can compete and, at our best, beat any team in the world. More importantly, the U.S. is beginning to develop a world-class "soccer culture." Americans can now watch professional games from England, Italy, and Spain on cable television. American fans can monitor U.S. players like Clint Dempsey (his club is England's Fulham), Landon Donovan (playing for English club Everton), Tim Howard (Everton's starting goalkeeper), and Oguchi Onyewu (a defender for Italy's A.C. Milan). The Internet has also brought international soccer into every American home.
When I started playing back in 1994, I'd often be the only American playing pick-up soccer at my local park. Not only was the game itself alien — and my first touches consistently clumsy — but nobody seemed to speak English. I had to learn "soccer Spanish" to let better players know I was open on the right or making an overlapping run. It took years before I understood how magical soccer can be when played well. On some days, even now at age 44, I feel the utter joy of making a good pass or heading the ball away from danger in a close game.
A burgeoning number of American fans will be at the stadium and watching on television as the U.S. team kicks off its World Cup run on June 12 in South Africa against powerhouse England. Bondy rightfully contends that we're no longer novices, disparaged at home and abroad, but that doesn't mean we'll dominate. Other nations have been living and dying with soccer for decades, and we're something like rookies joining a well-established team. But there's no mistaking that we're part of the club now.