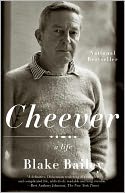 May 27: John Cheever was born on this day in 1912. In his 1976 interview with the Paris Review, Cheever recalls his early days—a slum room in New York City, a job at MGM summarizing the plot of "just about every book published," and a career built upon the stories he began to place at the New Yorker. Cheever was twenty-two when he placed his first story with the magazine, and over a hundred appeared there over five decades. Many got a close reading from editor Harold Ross, who could be appreciative, and sometimes even helpful. When Cheever submitted "The Enormous Radio," which eventually became title-story for Cheever's second, 1953 collection, Ross sent him this note:
Dear Cheever: I've just read "The Enormous Radio," having gone away for a spell and got behind, and I send my respects and admiration. The piece is worth coming back to work for. It will turn out to be a memorable one, or I am a fish.
But Ross's admiration, recalls Cheever, did not stop him from getting out his red pen:
In "The Enormous Radio" he made two changes. A diamond is found on the bathroom floor after a party. The man says, "Sell it, we can use a few dollars." Ross had changed "dollars" to "bucks," which was absolutely perfect. Brilliant. Then I had "the radio came softly" and Ross penciled in another "softly." "The radio came softly, softly." He was absolutely right. But then there were twenty-nine other suggestions like, "This story has gone on for twenty-four hours and no one has eaten anything." …Ross used to scare the hell out of me.
In his Paris Review interview, Cheever said that he ignored all his reviews, and always trusted his readers:
All sorts of pleasant and intelligent people read the books and write thoughtful letters about them. I don't know who they are, but they are marvelous and seem to live quite independently of the prejudices of advertising, journalism, and the cranky academic world. …The room where I work has a window looking into a wood, and I like to think that these earnest, lovable, and mysterious readers are in there.
---
Daybook is contributed by Steve King, who teaches in the English Department of Memorial University in St. John's, Newfoundland. His literary daybook began as a radio series syndicated nationally in Canada. He can be found online at todayinliterature.com.