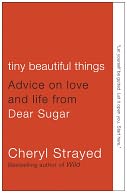 Dear Reader,
If you devoured Wild or Torch like we did, and are looking for more of Cheryl Strayed's terrific voice and compassionate perspective, you ought to grab a copy of Tiny Beautiful Things: Advice on Life and Love from Dear Sugar.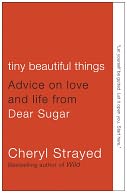 "Strayed has succeeded largely because she shares personal, often heartbreaking stories from her own life in answering readers' questions. Her experiences are qualifications, in a sense, as Strayed has taken the wisdom she gained from personal tragedies, including her mother's early death and the breakup of her first marriage, and generously applied it to all manner of issues. Because of this deeply personal approach, Tiny Beautiful Things can really be read as a companion to Strayed's extraordinary book Wild, her memoir framed around a solo hike on the Pacific Crest Trail," says The San Francisco Chronicle. (The rest of that fabulous review is here.)
Steve Almond, author of Rock and Roll Will Save Your Life and the Summer 2004 Discover pick Candyfreak has written the introduction to Tiny Beautiful Things.)
Cheers, Miwa
---

Miwa Messer is the Director of the Barnes & Noble Discover Great New Writers program, which was established in 1990 to highlight works of exceptional literary quality that might otherwise be overlooked in a crowded book marketplace. Titles chosen for the program are handpicked by a select group of our booksellers four times a year. Click here for submission guidelines.