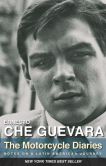 Che Guevara was executed on this day in 1967, the day after he and most of his small guerrilla band had been captured in central Bolivia. The most recent contributions to the debate over Che reflect the polarizations (or polemics) that have set in over the decades, some portraying a loving father and a Byronic warrior, others the ruthless ideologue who became "Fidel's Favorite Executioner." Guevara's formative journeys through South and Central America from 1950 to 1956 are described not only in The Motorcycle Diaries but in Back on the Road, which ends with the young doctor-anarchist meeting Castro and joining his small band of fighters aboard the Granma, which sailed from Mexico to Cuba in November 1956, so beginning the Cuban revolution. One of Guevara's last letters in Back on the Road is a cryptic and poetic note to his mother, signaling that her son has chosen his career path:
Now all that remains is the final part of the speech…which might be entitled: "What next?" Next comes the tough part, the part I have never shunned and always enjoyed. The sky has not darkened, the constellations have not fallen apart, nor have there been floods or hurricanes of extreme severity; the signs are good. They augur victory. But if they are wrong — and in the end even the gods can be wrong — I think that I'll be able to say like a poet you don't know: "I shall carry beneath the earth only the sorrow of an unfinished song."
---
Daybook is contributed by Steve King, who teaches in the English Department of Memorial University in St. John's, Newfoundland. His literary daybook began as a radio series syndicated nationally in Canada. He can be found online at todayinliterature.com.