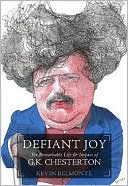 G. K. Chesterton's Alarms and Discursions was published on this day in 1910. As the collection's title suggests, Chesterton was a fearless and unpredictable essayist, now attacking the largest issues, now scurrying off on the wildest tangents. With two new biographies published this year, Ian Ker's G. K. Chesterton and Kevin Belmonte's Defiant Joy, Chesterton might regain the reputation he enjoyed among his contemporaries, as the consummate man of letters, able to turn any topic into telling or stylish reading.

Take for example, from the Alarms and Discursions collection, "Cheese." This certainly begins alarmingly: "My forthcoming work in five volumes, 'The Neglect of Cheese in European Literature,' is a work of such unprecedented and laborious detail that it is doubtful if I shall live to finish it…." But we are soon poking about the intellectual lanes and hedgerows in the usual Chesterton manner, in this case quite literally. Chesterton's inspiration for the "Cheese" discursion was a lecture tour during which he was forced to dine "on four successive days in four roadside inns in four different counties":
In each inn they had nothing but bread and cheese; nor can I imagine why a man should want more than bread and cheese, if he can get enough of it. In each inn the cheese was good; and in each inn it was different. There was a noble Wensleydale cheese in Yorkshire, a Cheshire cheese in Cheshire, and so on. Now, it is just here that true poetic civilization differs from that paltry and mechanical civilization which holds us all in bondage. Bad customs are universal and rigid, like modern militarism. Good customs are universal and varied, like native chivalry and self-defence. Both the good and bad civilization cover us as with a canopy, and protect us from all that is outside. But a good civilization spreads over us freely like a tree, varying and yielding because it is alive. A bad civilization stands up and sticks out above us like an umbrella — artificial, mathematical in shape; not merely universal, but uniform. So it is with the contrast between the substances that vary and the substances that are the same wherever they penetrate. By a wise doom of heaven men were commanded to eat cheese, but not the same cheese….
---
Daybook is contributed by Steve King, who teaches in the English Department of Memorial University in St. John's, Newfoundland. His literary daybook began as a radio series syndicated nationally in Canada. He can be found online at todayinliterature.com.