Editor's Note: This year, we asked Christopher Kimball, founder and editor of America's Test Kitchen and author of such cookbook classics as The Cook's Bible and Fannie's Last Supper, to share with us his Holiday Cookbook Buyer's Guide for 2011. You can find his list below, featuring choices that range from simple to elaborate, meat-heavy to vegetarian-friendly, exotic to homegrown.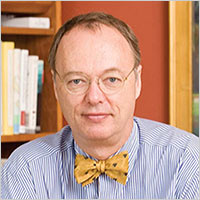 Dear Home Cook,
I have perused thousands of cookbooks in my time, from 19th century favorites such as The Virginia Housewife to genre must-haves such as American Cookery to modern classics such as The Union Square Café Cookbook. But when it comes to holiday gift-giving, I am looking for a cookbook that also has a sense of style, has a voice, feels good in the hand, and, at its best, also inspires. I make no claims regarding the reliability of each and every recipe in these books, but I do stand by the books as offering something that most cookbooks don't — an approach, a view of the world that is both different and refreshing. In these times, that is quite an achievement.
So here's my Holiday Cookbook Buyer's Guide for 2011. I hope you enjoy these works as much as I do.

Seven Fires: Grilling the Argentine Way
By Francis Mallman
Mallmann is a well-known South American chef who, born in Patagonia, grew up in the Andes. The simplicity of the food — cooked over wood-burning fires — is striking. Over and over, I found myself thinking, "Gee, I can make that!" Sure, the locations are breathtaking and this guy Mallmann is clearly über-rich and stylish, but, that being said, the food reaches out of his spectacular photographs and grabs one with the raw power of authenticity and hearty appeal. No tricks here, no silly ingredients, no nonsense. I heartily recommend this book for anyone tired of the same-old backyard barbecue.
By Claudia Roden
OK, I am not a big fan of the typical "The Food of…" cookbook. The copy often falls into the tourism category, the recipes are a bit hoary, and, well, the whole thing feels like it was served up as leftovers. Ms. Roden's effort does occasionally fall into a few of these traps, especially when one reads catchphrases extolling the region's "breathtaking gastronomic diversity." What country would not meet this definition? And darling photos of young, snowy white sheep across from a recipe for lamb shanks have made it past a less-than-discriminating editor. But the author gets a free pass due to the recipes — clean, solid, and quite doable in an American kitchen. The Medley of Spring Vegetables (fava beans, artichoke hearts, and asparagus bathed in chicken broth), Eggplant with Béchamel and Cheese, Beans with Cured Pork and Sausages, and a simple Almond Cake are all in-your-face, I-want-to-eat-it-now examples of country cooking. Despite its timeless and often predictable formula, The Food of Spain does deliver on the food, and that's where it counts.
A Platter of Figs and Other Recipes
By David Tanis
For years, I was convinced that Chez Panisse was an A-list restaurant merely coasting on its reputation as a groundbreaking, locally sourced innovator. All that changed last year when I stopped by for lunch, which was at once exquisitely crafted and charmingly simple, offering a creative spark that never veered into culinary silliness. Simply put, it was the best lunch of my life: honest, clean, and delicious. As head chef at Chez Panisse, Mr. Tanis has my attention, and his 2008 work, A Platter of Figs and Other Recipes, is a must for any holiday gift list. Christopher Hirsheimer, perhaps the best food photographer in the business, has contributed top-notch, luminous compositions, and the quiet, thoughtful layouts partner nicely with the straightforward recipes, among them Goat Cheese with Honey, Sliced Tomatoes with Sea Salt, and Orange Salad with Dates. The problem, as any astute reader will immediately gather, is that Mr. Tanis is using world-class ingredients, and the rest of us are shopping at Safeway. Well, we can dream, can't we? And the imaginary world of Chez Panisse is as close to the Garden of Eden as I will ever get.
By Melissa Hamilton and Christopher Hirsheimer
These diminutive volumes were first published in 2009 at the rate of three seasonal volumes per year by the team of Hamilton and Hirsheimer, both of whom have strong culinary CVs and stints at Saveur. Each of these volumes, which come in at just more than 100 pages, is a beautifully crafted scrapbook of recipes with drawings and photographs. They are personal, charming, and a breath of fresh air in the overwrought world of "big" cookbooks. It's nice to have something small and digestible for a change. The cooking, as well as the covers, is simple, and it is thrilling that a culinary duo manages to self-publish cookbooks that deserve a place at the table. Salut!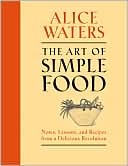 The Art of Simple Food: Notes, Lessons, and Recipes from a Delicious Revolution
By Alice Waters
Yes, these recipes are simple, very simple, and that is the charm of this book. Printed on a nice, heavy matte paper in two colors (black type, red recipe titles), it feels approachable and straightforward. How about Romano Beans with Marjoram, Moroccan Carrot Salad, Spaghettini with Oil and Garlic, and Grilled Chicken Breast? This is not restaurant food, or at least, not fancy New York-style menu items. Of course, the magic is in the ingredients and the experience of the cook, but I like this book because I love everyday food. The writing is uncomplicated with an emphasis on kitchen technique and just the right number of asides regarding sustainability. It's a cookbook in the grand tradition of American cookery. Thank you, Alice.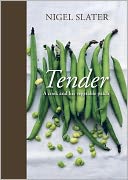 Tender: A Cook and His Vegetable Patch
By Nigel Slater
This is a book that answers the question, "What the heck can I make with that?" This is not the first volume to address the world of vegetables and organize it by variety, but it may be the best. Some of the ideas are outrageously simple — fresh spinach leaves with sizzling hot coarse-cut bacon and a splash of sherry vinegar. Other ideas are not likely to have occurred to me or anyone else such as a "Sweet and Sticky Casserole of Duck with Turnips and Orange." What to do with an onion? The author has a host of simple suggestions (cook them with either salty anchovies or parmesan), or one could roast lamb and serve it with couscous and red onion. Nigel is not afraid of meat — the downfall of many veggie books — and there are plenty of suggestions for gardening and simple preparations. Beautiful, full-page color photos on matte paper are a bonus.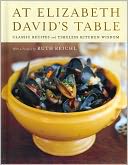 At Elizabeth David's Table: Classic Recipes and Timeless Kitchen Wisdom
By Elizabeth David
Thirty years ago, I met Elizabeth David for about two minutes at a cocktail party given by Jim Beard at his townhouse on West 12th Street. She immediately struck me as a "woman of substance," someone who marched to a different drummer. The preface to this work confirms that impression, as she lived by a book inscription written by Norman Douglas, which said, in part, "Always do as you please, and send everybody to hell…" Good for you, Elizabeth, and this book certainly gives one the impression that she cared not a whit for food fashion but was timeless in her appetites, from Fresh Green Pea Soup to Chicken with Tarragon. She even puts a nice yellow cream sauce over a piece of fish, something I haven't seen since Le Cirque or La Grenouille during the heyday of French cooking in New York, almost a half century ago. But who wouldn't want to dine on a Rack of Lamb with White Beans or a very English Summer Pudding? (I had one of these during a recent London trip, and it made me realize that Americans know almost nothing about the ethereal possibilities of this simple dish.) This book makes me long for Europe as it used to be, when James Bond first encountered Goldfinger, when the Kennedys were seducing the world, and when a simple roast chicken and a plate of white asparagus were things of great gastronomic beauty. Yes — let's just send everyone to hell and be damned!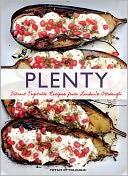 Plenty: Vibrant Recipes from London's Ottolenghi
By Yotam Ottolenghi
Any food lover who has visited London in recent years knows these gourmet take-out shops from Kensington to Notting Hill. The food is fresh and smart and so is this book. Yes, many of these recipes will require special ingredients — orange-flower water and special varieties of radicchio to name two — but you can get through most of this repertoire with what is available at any good market. Clearly, someone with a brain and a palate constructed these recipes: Pasta and Fried Zucchini Salad, Bittersweet Salad (with blood oranges, pine nuts, and ricotta), Black Pepper Tofu, and Lentils with Tomatoes and Gorgonzola. Simple food is never easy, it often disappoints, and an appealing idea often turns into a lackluster dish, but Plenty gives the home cook plenty of novel ideas and recipes, especially if one is seeking a new way to cook — one with less meat and more flavor.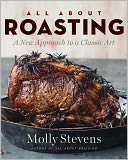 All About Roasting: A New Approach to a Classic Art
By Molly Stevens
This is the one book on my list that is more practical than inspirational, although it is well appointed and more than serviceable in design. Roasting books have been done before (thanks to Barbara Kafka, among others), and the author is, therefore, treading well-worn ground. But she has struck a nice balance between useful recipes, clear directions, and more-than-sufficient culinary artistry to make me sit up and pay attention. The standard recipes are all there, but she dresses them up just enough to make you look good at home without being overly trendy. I would be perfectly happy to serve Spice-Rubbed Roast Chicken Thighs with Cilantro-Lime Vinaigrette or Quick-Roasted Halibut Steaks with Basil-Mint Browned Butter and Almonds. This is a glossy book with big color photos that you can really cook from — a good solid book from someone who clearly knows her way around the kitchen.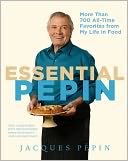 Essential Pépin: More Than 700 All-Time Favorites from My Life in Food
By Jacques Pépin
Here is the thing about Jacques: His recipes work. He came up through the French restaurant apprenticeship culture, using his fingers to test whether grilled foods were done. He cooked for Charles de Gaulle. He supposedly turned down the White House chef job under Kennedy and ended up working for Howard Johnson. He is a pro, he handles a knife like nobody else, and his recipes span decades and styles but are always practical and well written. If you do not have any of his books (or if you know someone who doesn't), this would be an excellent place to start. It is not a coffee table book, to be sure, but it gives the gift of Jacques, one of the great gifts France has bestowed upon this provincial nation.