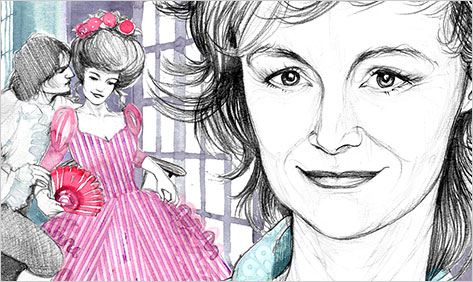 And they lived happily ever after gave Hans Christian Andersen an easy getaway. Think about Cinderella, for instance. The prince is blown over by a pretty face and some great shoes — and that's where the story wraps up. Didn't you ever wonder what the prince's mother, the queen, thought when he brought Cinders home, rags and all? Or if Cinderella had second thoughts about marrying a man more focused on her feet than her face? Some of the best historical romances go beyond the glass slipper and look at just how tough it really would be to take a girl from the serving class and match her up with a prince.

Sherry Thomas's Delicious is a brilliant version of Cinderella, though Thomas's heroine, Verity Durant, is no meek kitchen wench. Verity is a cook so inspired that men weep to taste her madeleines and remember them for years after. There's a touch of magic realism here: rising political star Stuart Somerset feels extravagant happiness when eating her creations; her food makes a dowager duchess remember the day she met her husband?and the day of his funeral. But the magic, and the fairy tale backbone, never overwhelm the love story. The bath scene, for example, is one of the sexiest that I've ever read. Thomas does a great job of establishing Stuart's high rank and high expectations, so that we can take even greater pleasure in seeing him fall hard and fast (in love). Delicious turns the Cinderella fable into the luminous, sensual tale of a man who is not quite a prince, and a heroine who is never less than his equal.

The hero in Laura Lee Guhrke's Secret Desires of a Gentleman is even haughtier than Stuart. This Cinderella, Maria Martingale, is also a cook. Maria grew up on the estate of the self-important Philip, Marquess of Keyne, who took some pleasure in derailing her elopement to his younger brother. Now, years later, Maria has opened a p?âtisserie — next door to the oh-so-aristocratic gentleman himself. Guhrke does a great job at establishing the marquess's stuffy nature; on encountering Maria in the street, he chides her for using his Christian name, since it "indicates a familiarity with me of which I am unaware." Like Verity's, Maria's petit fours can make a man weep with pleasure, though the pleasure for the reader is definitely in seeing the insufferable marquess come to his knees. Still, the threat remains that class barriers, so vividly displayed, will triumph over a fairytale ending. These princes are too rigid, too bound by custom and class. Guhrke's novel presents a heroine who wants a lot more than a Manolo slipper from her prince. Maria demands not just marriage, but love and respect, two infinitely more difficult demands. Philip has to throw away his claim to gentleman in order to claim something far more important, his wife.

In Sins of a Wicked Duke, Sophie Jordan's heroine, Fallon O'Rourke, is not fallen (as implied by her name): she is virtuous and determined to stay so. This novel springs from the vulnerability of Cinders-girls to upper class males; in the process of fighting off lecherous advances, Fallon keeps getting fired. Finally she cuts off her hair and applies for a position as footman in the household of Dominic Hale, Duke of Damon. The so-called Demon Duke is surrounded by willing females and presumably wouldn't pose a threat to her virtue even if she were in a skirt. But after Fallon-the-footman thwarts a vengeful husband waving a pistol, Dominic promotes her to the role of his valet, which gives Fallon ample opportunity to express her opinion of his class and gender. It's fun to watch the desperation with which Dominic, who is not nearly as arrogant as Guhrke's Phillip, tries to reestablish the proper distance between a valet and a master, even though Fallon scorns him as a man "born with the world bowed before him." The crucial moment in this Cinderella story is not when midnight strikes, but when Jordan begs Fallon not to hold his title against him — because she is so clearly doing so. The obstacle here, then, is not Dominic's reluctance, but Fallon's disdain, a fascinating twist on the class wars.

Claudia Martin, in Mary Balogh's Simply Perfect, has fought to gain her position as headmistress of a School for Girls, and like Fallon, she has learned an active dislike for gentlemen who never faced such a struggle. Claudia has always acted as an excellent model of rectitude and sobriety for her girls — until Joseph, Marquess of Attingsborough, appears at the school and she succumbs to a scandalous liaison. Like Fallon, she has painfully learned that an aristocratic man expects every woman to "grovel in servile humility at his feet," as Claudia puts it. The culture of England demands that untitled women toady to the aristocracy. But what happens when fierce independence meets equally fierce desire? It's a pleasure to watch Claudia realize that desire can bring even a marquess to his knees.

Connie Brockway's The Bridal Season offers another heroine who meets the hero while in disguise, though instead of male clothing, Letty Potts essentially wears a title. A chance encounter in a train station leads to Letty arriving in a small town claiming to be "Lady Agatha," a famous wedding planner. Letty shares Claudia's and Fallon's scorn for gentlemen, whom she feels deserve to be conned since they waste their money on horses, dog pits, opium, and loose women. Yet the difference here is that Sir Elliot March cannot simply breach custom and enrage polite society by marrying Letty without forgoing his future. The Prime Minister has recommended that he be made a baron, which would give him a seat in the House of Lords. Yet the Queen would never grant a barony to a man who married a music hall actress. Of course, Elliot will get around the limitation; the sweet core of these Cinderella stories promises that that the prince will figure out whose shoe he holds, and will run after the lady he danced with. The end of Bridal Season is one of the most over-the-top romantic scenes I've ever read: when Elliot decides that love is far more important than reputation, he claims his beloved in front of the polite world itself, and to hell with the consequences.

Mary Balogh's hero puts it best when he informs his levelheaded beloved that romance does not always have to be sensible. We're all far too sensible these days, given that the economy and the media seem to be competing to make us feel dreary. In fact, all this bad news has done a good job of making each of us, no matter how financially secure, feel a bit like a Cinders-girl, hiding out in the kitchen in a precarious job with little prospects. Cinderella novels are the perfect escape. They grapple with questions of money, of despair and need and humility — and love wins. From the regency to the Victorian age, for a gentleman to fall in love with a working woman was utterly insane; and yet, as Bottom says in A Midsummer Night's Dream, "reason and love keep little company nowadays." It's a lesson we could all stand to hear repeated.

If you'd like to try on more glass slippers, please stop in to chat with Eloisa in the Romantic Reads Book Club. You can check out Eloisa's past columns in the Archives. And if you'd like a peek at Eloisa's own romances, please visit her Web site at www.eloisajames.com<>.