Bravery, suffering, tragedy, and triumph, withideals—and lives—on the line.
---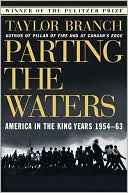 Parting the Waters:
America in the King Years 1954-63
By Taylor Branch
The first volume of Branch's riveting trilogy delves into the private moments and public declarations of the men and women who propelled the Civil Rights movement, with the most powerful spotlight on Dr. Martin Luther King, Jr. Narrative history at its very finest, Parting the Waters launches an epic which embraces all of the movement's personalities, conflicts, dreams, triumphs, and failures—from the ephemeral to the monumental.
---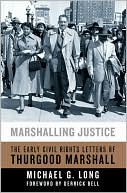 Marshalling Justice: The Early Civil Rights
Letters of Thurgood Marshall
By Michael G. Long
For 20 years before the Montgomery bus boycotts and long before he became the first African-American Supreme Court Justice, Thurgood Marshall served as a lawyer for the National Association for the Advancement of Colored People. These eloquent and revealing missives from that period show the kindling of what would become a blazing legal intellect, sparked by the desperate urgency of the era's injustices.
---
By Douglas G. Brinkley
Although her act of courage as a bus passenger demanding equal treatment has entered into history, most Americans know little about the life of the woman whose name has become synonymous with principled resistance. Douglas Brinkley's biography sheds much-needed light on Parks's childhood on a farm outside of Montgomery, Alabama, her early work with the NAACP in the 1940s and early '50s, and her life after her role in the movement. Brinkley follows Parks into her years working in Detroit as an aide to Representative John Conyers, and her struggles to make ends meet even as she continued to play the role of cultural icon.
---
Walking with the Wind:
A Memoir of the Civil Rights Movement
By John Lewis
The son of an Alabama sharecropper, Lewis has represented Georgia in the House of Representatives since 1987 and was the chairman of the Student Nonviolent Coordinating Committee during the major battles of the Civil Rights movement, in which he was himself arrested more than 40 times. In this story of his life, Lewis shares his firsthand experience of life as a nearly endless battle.
---
By James Baldwin
Consisting of two letters written on the 100th anniversary of the Emancipation Proclamation, Baldwin's 1963 bestseller set off a profound—if often uneasy—conversation among thousands of readers, and became an intellectual touchstone for a generation's thinking about race in America. Employing an eloquence and fervor that made his meditations on history, faith, and the future of black and white ring out unforgettably, Baldwin penned in these pages a sermon that resounds in the reader's soul.