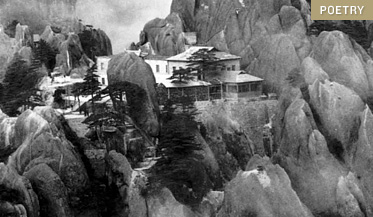 In the mid-'60s, thinking of his childhood mill town, Ohioan James Wright penned "Autumn Begins in Martin's Ferry Ohio," arguably one of the great American poems of the last century. Football season kicks off in a working-class midwestern town, where fathers are "ashamed to go home" and "sons gallop terribly against one another's bodies." The 12-line poem's directness seems as quintessentially American as a painting of silos. But if Wright's version of American modernism seems to sprout from soil of the heartland, its images come from over the horizon. The title "Autumn Begins in…" doffs its hat to the Chinese poetry Wright had been reading and translating for years. Later Wright would write more deliberate evocations — poems directly indebted to Chinese masters Du Fu and Wang Wei, or works with titles like "In the Manner of the Old Chinese Poems."

Wright was in good company. It's true that Chinese mandarins never wrote about football — they were more enraptured with pheasants crying, dry thistles, full moons, or secluded mountain huts where they bemoaned their empty wine bottles. But classical Chinese verse, the world's oldest and longest continuous poetic tradition, has been a central part of what has made this century's American poetry sound quintessentially American. After Ezra Pound, its associative, imagistic language has influenced William Carlos Williams, Kenneth Rexroth, and Gary Snyder. Current poets borrow Chinese traditions (and perceptions of Chinese traditions) as a storehouse for their own reinventions, as in Frank Bidart's recent book Watching the Spring Festival, which places Du Fu next to Marilyn Monroe and Catullus. Sometimes poets acknowledge the influence more puckishly; Billy Collins has a recent poem called "Reading an Anthology of Chinese Poems of the Song Dynasty, I Pause to Admire the Length and Clarity of Their Titles."

Collins jokes, but the joke works because the real engagement is much deeper than pastiche. Drawing on Buddhist, Taoist, and Confucian principles, Chinese poetry explores the relationship between being and nothingness. It is written in language that stresses the process of relating images rather than the finality of finding meaning. These concerns have been a remarkably good fit for those of our own 20th century. Moreover, the result is also a body of gorgeous work, in which the physical world penetrates and makes for mental conditions and the sage uses the record of the physical world as a way of coming to being.

But this rich storehouse of thinking has reached non-Chinese speakers only in spurts. Arthur Waley's 1919 classic, A Hundred and Seventy Chinese Poems, has stayed classic for a reason — there has been very little else to compare it with. Kenneth Rexroth and Willams and Pound each offered their own small takes. The 2003 New Directions Anthology of Classical Chinese Poetry, edited by scholar Eliot Weinberger, jumped in to fill a major gap.

However, nothing yet in English has approached the range and scope of David Hinton's phenomenal 400-page tome. His meticulously arranged sweep through three millennia of Chinese literature is nothing less than a publishing miracle. Hinton takes on the formidable task of giving us a tradition whole, beginning with folk and oral songs of the 15th to 4th centuries BCE and moving through a drama of courts and dynasties into the 12th century. His work lays out the context of each selection cleanly, tracing its place in China's religious and cultural evolution following wars, dynasties, and changes in rank and class. In addition, he introduces us to each poet personally — the educated painters, the lonely sages, the confined courtesans, the shamans, the poet-statesmen. He meditates a bit on the moment in lived and literary history each poet explores. We get more than just Li Po or Du Fu: we get the world in which they wrote — a monumental gift to American readers.

Hinton's introductions are educations in themselves. He explains how, because of its earliest and deepest roots in Taoist philosophy, Chinese poetic language takes part in and reflects a much deeper philosophical dialogue between presence and absence. The page mirrors the emptiness out of which the things of the universe come into being, as well as the very space in which they are called and then come. "Language," he notes, "doesn't simply replicate but actually participates in the deep structure of the cosmos and its dynamic process." Fittingly, the Chinese name for this process (itself rather autumnal) is tzu-juan — "self-ablaze" — a word that describes the things of the world arising from their generative source and then being changed as they come into being. In these poems, landscape and consciousness and outer and inner worlds often mingle, mirroring one another. The world becomes the description of contemplation as well as the reflection that contemplation produces.

After these valuable prologues, Hinton proceeds to translate the early oral tradition, the Tao Te Ching, a collection of folk songs and the work of 23 individual poets whose work spans a mere three millennia. While it is hard for this writer to know how well they follow the Chinese, these translations render poetic life in English with wonderful consistence and immediate appeal. I'm particularly drawn to Wang Wei's spare evocations, which become dulcet in Hinton's hands. Here are four melancholy lines from the recluse sage:


You just came from my old village,
so you know all about village affairs.
When you left, outside my window,
Was it in bloom — that winter plum?

Other poems touch a traditional trope of the return from war, as in this rueful verse by Tu Mu, entitled "Back Home Again":


Kids keep tugging at my robes, asking:
Why did it take you so long to come back?
And who were you fighting all these months
And years to win all that silk-white hair?

It's a testament to Hinton's powers as a translator that this ambitious book is so readable. After sampling its profusion of voices, what comes through is the distinctness of tone, from poet to poet, as if Hinton is lovingly teaching us to be connoisseurs of rare plum wines. We at last have our own access to the store house of "Autumn Begins" poems — and can feel how timeless the occasion feels, not just in James Wright's Ohio but as it was on the other side of the globe 500 or 1,500 or 2,000 years ago. During the T'ang dynasty, the diplomat Meng Hao-jan wrote his own "Autumn Begins" poem, which Hinton allows to arise in clear, graceful and flowing English:


Autumn begins unnoticed. Nights slowly lengthen,
and little by little, clear winds turn colder and colder,
summer's blaze giving way. My thatch hut grows still.
At the bottom stair, in bunchgrass, lit dew shimmers.

Oh indeed. It is hard to get older, but thankfully, in Hinton's skillful hands, this poem has aged so well. Take that, Martin's Ferry.