Running backs, rivalries, and the royalty of the storied gridiron.
---
By Don DeLillo
West Texas is a hotbed of tough-guy football, and National Book Award-winning author DeLillo's second novel captures every overly-loud grunt of it — while hilariously commenting on the muddled metaphorical line between war and football games. And what other writer would give us the tale through the eyes of a nuclear war-obsessesed, anxiety-riddled running back?
---

Rites of Autumn: The Story of College Football
By Richard Whittingham
This oversize companion book to a 10-episode ESPN series of the same name from 2001 holds up mightily on its own. Stuffed with lists, anecdotes, charts, photos, and factoids, it offers a comprehensive overview of decades college football and the mythic figures who have coached and battled on the field.
---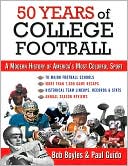 50 Years of College Football: A Modern History of America's Most Colorful Sport
By Bob Boyles
The encyclopedic Modern History catalogs every detail of college football from 1955 through the 2007 NFL Draft, including a slew of starting lineups, career statistics, AP Polls, award winners, and key game recaps (more than 6,500, in fact). Rounding it out are a hundred-plus profiles of the game's most significant figures from that era.
---
By Barry Wilner
As the officers-to-be of West Point and the Naval Academy prepare themselves to defend our country, their training includes a ritual immersion in one of America's biggest college-football rivalries, the Army-Navy Game. Barry Wilner opens the door on this century-old rivalry's pageantry, tradition, and greatest moments and players.
---
The 100-Yard War : Inside the 100-Year-Old Michigan-Ohio State Football Rivalry
By Greg Emmanuel
These two schools first went at each other on the football field in 1897 and have since developed a rivalry so severe that two whole states get involved. Emmanuel not only chronicles the many clashes between these two squads, but shares insight into the meaning and passion of these annual events.