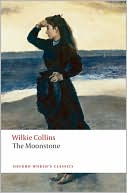 January 8: Onthis day in 1824, the Victorian mystery novelist Wilkie Collins was born.Though many of Collins's twenty-five novels are now little-read, his"gaslight thrillers" were once very popular, and two, The Woman in White (1860) and The Moonstone (1868), have not onlystayed in print but grown in reputation. Critics and historians view Collins asa master of suspense and the first in English crime fiction to bringpsychological depth and literary flair to tales so lurid that they wouldotherwise belong to the crime tabloids. Collins attributed his popularity tothe old adage, 'make 'em laugh, make 'em cry, make 'em wait,' which he said heborrowed from the music hall. Whatever his formula, Victorian England boughtout the first book edition of The Womanin White in a day, and many were soon singing "The Woman in WhiteWaltz" and wearing "Woman in White" perfume.
Among Collins's many contributions to the crime genre was tomake his detective-heroes more than cardboard or mere clue-hounds. In The Moonstone, the Yard's Sergeant Cuffis given steely grey eyes, a melancholic mood, and a tired, seen-it-all voice.He keeps his anti-social urges down with manners and with time after hoursamong his flowers: "I haven't much time to be fond of anything, . . . butwhen I have a moment's fondness to bestow, most times, Mr. Betteredge, theroses get it." In the following passage, the admiring narrator compares"the great Cuff" to his pompous senior officer:
Why Superintendent Seegrave should have appeared to beseveral sizes smaller than life, on being presented to Sergeant Cuff, I can'tundertake to explain. I can only state the fact. They retired together; andremained a weary long time shut up from all mortal intrusion. When they cameout, Mr. Superintendent was excited, and Mr. Sergeant was yawning.

"The Sergeant wishes to see Miss Verinder'ssitting-room," says Mr. Seegrave, addressing me with great pomp andeagerness. "The Sergeant may have some questions to ask. Attend theSergeant, if you please!"

While I was being ordered about in this way, I looked at thegreat Cuff. The great Cuff, on his side, looked at Superintendent Seegrave inthat quietly expecting way which I have already noticed. I can't affirm that hewas on the watch for his brother-officer's speedy appearance in the characterof an Ass—I can only say that I strongly suspected it.
---
Daybook is contributed by Steve King, who teaches in the English Department of Memorial University in St. John's, Newfoundland. His literary daybook began as a radio series syndicated nationally in Canada. He can be found online at todayinliterature.com.