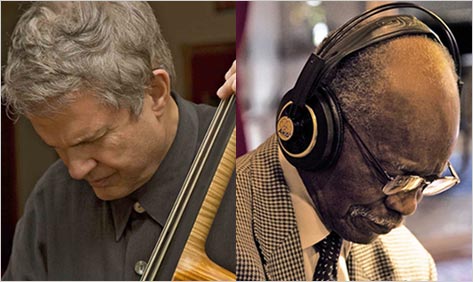 Come Sunday, a recital of spirituals and hymns as interpreted by the duo of bassist Charlie Haden and the pianist Hank Jones, is as unadorned and as poignant as its similarly-themed predecessor from 1995, Steal Away — both albums labors of love, where the obvious love fairly obliterates any trace of overt labor. Recorded in 2010, just four months before the 91-year-old Jones died, "Come Sunday" announces its intentions quietly; gospel fervor is replaced by subdued tones of understated musical communion. Virtuosic grandstanding has as little place here as ornament would have on a Shaker table.
Listeners familiar with Haden's commanding abstract solo ruminations won't find them in these performances. Jones, likewise, has left at the church house door any expansive displays of his characteristically fleet bebop runs. Graceful, pleasingly succinct improvisations abound, but what these two masters have come to celebrate is not the transformation of the source material, but the simple and durable beauty of the melodies themselves.
"Take My Hand, Precious Lord," "Deep River," "Blessed Assurance," Duke Ellington's hymn from which the record takes its title: these and other familiar tunes are obviously treasured personal touchstones that the bassist and the pianist carried with them throughout their lives. (Jones was raised with a church-based background; Haden started singing hymns as a child in the 1940s with the family band that his father led.) With these artifice-free interpretations, Haden and Jones had nothing to prove but their profound commitment to an elemental American musical tradition, and their obvious respect — no, make that love — for one another.