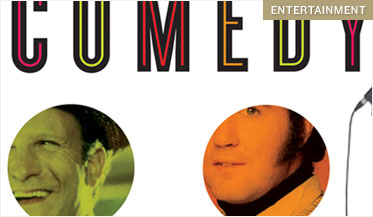 This you've probably heard: according to a 2004 study by the Pew Research Center, nearly one-quarter of young people get their news from The Daily Show and Saturday Night Live. When that news broke — and not on Comedy Central — alarms were sounded; hands were wrung. News from comedy? Does this mean that the only things America's slackers know about current events are that airplane food is terrible and men and women are different? Not so fast: a study the same year by the Annenberg Public Policy Center found that Daily Show viewers were in fact better informed about politics than many consumers of, well, actual news. "What Walter Cronkite was to their parents and grandparents, Comedy Central's Jon Stewart is to them," observed a Newsday article about Daily Show viewers left bereft by the recently-concluded writers' strike. (Quoth one pining fan during the strike: "I've been going as far as listening to NPR.")

This all makes sense. In comedy terms, you need to understand the setup — whatever your source — in order to feel the punch. And in today's culture, the popularity of Stewart and Colbert, as primary news sources or otherwise, makes sense, too. We are skeptical, we are cynical, we know it's all spin anyway — why not skip the middleman and go straight to the satire?

According to Richard Zoglin, a writer, editor, and former TV critic for Time, Stewart and Colbert are heirs not only of Walter Cronkite but also of legendary loudmouth Lenny Bruce. The post-Bruce school of stand-up — in a shift from the one-liner setup-punch-iness of the previous generations — saw comedians writing their own material, honing a point of view, taking on the Establishment, "telling it like it is," Zoglin writes in his new book, Comedy at the Edge: How Stand-up in the 1970s Changed America. The evolution of comedy from the Borscht Belt to the 1970s "could be described as a long march from joke-telling to truth-telling," Zoglin writes — and, he says, the truth-telling hasn't stopped. George Carlin, Richard Pryor, Robert Klein, Steve Martin, Albert Brooks: "Their voice continues to resonate in the national conversation, from the monologues of late-night TV hosts to the insta-punditry and parodies of the Internet," he writes. "Their point of view — ironic, skeptical, media-savvy, challenging authority, puncturing pretension, telling uncomfortable truths — is the lens through which we view everything from presidential politics and celebrity scandal to the little trials of our everyday lives."

In other words, comedy as inherited from the iconoclastic artists — yes, artists, Zoglin argues — of the '70s is not just the stuff of a wisecrack and a two-drink minimum; it has changed the way we see the world.

On this topic — clearly a near and dear one — Zoglin combines the exhaustive research of a reporter with the writing chops of a seasoned vet and the reverent nerdiness of a true comedy fan. He does stop short of fawning, however; there's not a drop of whitewash to be seen. He suggests, heretically, that among the post?Borscht Belt crew (Mort Sahl, Bob Newhart, Nichols and May, et al.) Lenny Bruce was "not the funniest of the lot." Through interviews with club owners, producers, agents, and with many of the comics, Zoglin assembles a chronological series of detailed — and not always flattering — collages of each of the key players, from their wiseguy beginnings and in-progress techniques to their onstage personas and their offstage tribulations (rivalry, self-doubt, setting hair on fire while freebasing cocaine). An entertaining, enlightening, and occasionally exhausting read, Comedy at the Edge is basically a full-on comedy field trip, time-travel included: you get a seminar on stand-up history and craft, a visit to a club, and a chance to hang out with comedians swapping war stories and remember-whens backstage (where, it should be noted, there is no drink minimum at all).

From his unsentimental bio of Bruce, Zoglin goes on to profile the highly disciplined and formerly drug-addicted George Carlin, whose list of "Seven Words You Can Never Say on Television" led zigzaggedly — through a resulting FCC ban later upheld by the Supreme Court — to the requirement that the 8-9 p.m. hour of prime time be reserved for "family-friendly" programming. The only comic to enjoy four decades of touring success with "virtually no boost" from Hollywood, Broadway, or television, Carlin carried on "Bruce's crusade against hypocrisy, cant, and injustice" (especially in his later, darker years) and, with his goofy, nitpicky riffs, paved the way — though not all of us will thank him — for the "observational" comics to come.

We go on to meet the volatile, provocative Pryor, "unanimously acclaimed as the most brilliant stand-up performer of his generation," with streaks both terrifyingly violent and surprisingly sweet. Then there's Robert Klein, highbrow hyperbolist; Richards Lewis and Belzer, the latter resented for having more clout (and chemical enhancement) than work ethic; and Albert Brooks and Steve Martin, who both — with divergent styles — "made show business itself the target of their satire." Also: Letterman and Leno, Robin Williams, Elayne Boosler, Andy Kaufman — plus a few of the seminal clubs and their eccentric management — all the way to Jerry Seinfeld. "Though?no innovator or social provocateur, was a worthy ambassador for another aspect of the '70s stand-up revolution: the comedian as truth-telling everyman, exposing our secret thoughts and airing our dirty laundry — even when it's just laundry," Zoglin writes.

Seinfeld's tameness notwithstanding, Comedy at the Edge is no Born Standing Up (Martin's reserved, squeaky-clean autobiography). Zoglin does not hesitate to "work blue" — that is, to dish dirt where dirt is due. The book is profane, dark, and juicy, almost all underbelly. You will learn that Rodney Dangerfield smoked a lot of pot, that — according to Robin Williams — Redd Foxx walked around with a Mason jar full of coke, and that Joan Rivers played strip clubs under the name "Pepper January" (her dog's name plus her daughter's birth month?). And that's the cleaner material.

You will also see your favorite comics flailing, sometimes poignantly so, at their absolute worst. Tanking in Denver in 1976, Letterman resorted to going from table to table asking people where they were from. "One patron lost patience," Letterman tells Zoglin. "'He says to me, 'I'm from Denver. He's from Denver. We're all from Denver. You're in Denver. ' "

What you won't see in the book, unfortunately, are all that many women. To be fair, there were not so many female stand-ups during the era Zoglin covers; he rightly recognizes, and criticizes, the sexism and ghettoization encountered by performers like Paula Poundstone, Joy Behar, and Joan Rivers (along with their successors). But — speaking of ghettoization — how come Elayne Boosler gets relegated to a chapter called "The Women"? There's some irony there: Boosler herself "refused to do interviews where she would be lumped together with women comics." By Zoglin's own account, Boosler was both a pioneering member of the "boys' club" and the "key pathbreaker" for women comics. On this basis alone she deserves more ink than Seinfeld.

At least Zoglin's "women" chapter includes this Boosler gem about waitressing in restaurants where men order "for the lady." Boosler: "It made it seem like there could be only one lady. 'The lady will have coffee.' 'OK, the slut'll go get it.' " Here and elsewhere, this book's delight is in the details — the more devilish, the better. Zoglin's evidence for his thesis, while not entirely unconvincing, remains scattershot; his case for how comedy changed America is ultimately less strong than his case for how comedy changed comedy. But who cares? You don't read this book for its subtitle. You read it for the jokes, the juice, the behind-the-scenes dish, the chance to hang out with some of the best of the best, whether they're killing the crowd or destroying themselves. For less than the price of two drinks plus cover, you could do much, much worse.