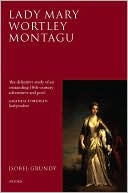 August 21: Lady Mary Wortley Montagu died on this day in 1762. The biographies describe the high-born Montagu as one of the Enlightenment's most sought and shunned figures—one so "brilliant in mind, beautiful in face and body" that the men lined up at her door, yet such an "assertive, unconforming woman" that she became "a lightning rod for misogynist anxiety and anger" (Lady Mary Wortley Montagu: Comet of the Enlightenment, Isobel Grundy). Montagu is most famous for her Turkish Embassy Letters, these regarded as among the most insightful early glimpses of life among the Ottomans (and an important contribution to the development of inoculation methods for smallpox, these based on her observations of the practices in that region).
Almost any excerpt from any volume of Montagu's letters supports those who regard her as a master of epistolary prose. Her earliest extant letters to her future husband (these clandestine, Lady Mary just twenty at this point) bristle. Contrary to his gender and class assumptions, she declares the "charms of show, and all the pageantry of Greatnesse," as "blessings that ought only to be given to Fools." Nor is she much interested in him: "You think if you marry'd me I should be passionately fond of you one month and of some body else the next. Neither would happen." A letter written a few months later to a female friend begins, "Ay, Ay, as you say my Dear, Men are vile Inconstant Toads." Her letter six weeks later to the Bishop of Salisbury toes the gender line—"I am not now arguing for an Equality for the 2 Sexes…"—but perhaps only because she was seeking his help for her first publication, and only after having expressed these complaints:
We are permitted no Books but such as tend to the weakening and Effeminateing the Mind, our Natural Defects are every way indulg'd, and tis look'd upon as in a degree Criminal to improve our Reason, or fancy we have any. We are taught to place all our Art in adorning our Outward Forms, and permitted, without reproach, to carry that Custom even to Extravagancy, while our Minds are entirely neglected, and by disuse of Reflections, fill'd with nothing but the Trifling objects our Eyes are daily entertain'd with. …There is hardly a character in the World more Despicable or more liable to universal ridicule than that of a Learned Woman.
---
Daybook is contributed by Steve King, who teaches in the English Department of Memorial University in St. John's, Newfoundland. His literary daybook began as a radio series syndicated nationally in Canada. He can be found online at todayinliterature.com.