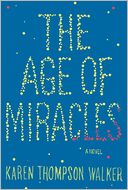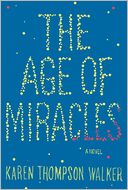 Dear Reader,
Plenty of coming-of-age novels are submitted to the Discover Great New Writers program each season, but few are chosen, because limning the divide between childhood and adulthood is difficult to do well — too often, narrators sound like eloquent, miniature adults or careen towards the twee and cloying.
But the good coming-of-age novels, the ones that showcase a compelling narrative voice and a specific sense of place as well as gorgeous prose, those are the ones chosen for the Discover Great New Writers program. Karen Thompson Walker's astonishing debut, The Age of Miracles (on sale 6/26), is a perfect example of what we look for, and a review in today's New York Times reiterates our selection committee's enthusiastic response to the voice of the book's narrator, 11-year-old Julia:
"Her voice turns what might have been just a clever mash-up of disaster epic with sensitive young-adult, coming-of-age story into a genuinely moving tale that mixes the real and surreal, the ordinary and the extraordinary with impressive fluency and flair."
The review continues, comparing The Age of Miracles to one our favorite past Discover picks, Alice Sebold's novel, The Lovely Bones, which also "creates an elegiac portrait of an ordinary world, forever rocked by terrible events."
And if you've already read The Lovely Bones, and are looking for a great coming-of-age novel to dive into before The Age of Miracles lands next week, here are a few of our other favorites:
American Dervish by Ayad Ahktar
Girl in Translation by Jean Kwok
How the Garcia Girls Lost Their Accents by Julia Alvarez
The Kite Runner by Khalid Hosseini
The Queen of Palmyra by Minrose Gwin
The Selected Work of T.S. Spivet by Reif Larsen
Tell the Wolves I'm Home by Carol Rivka Brunt
What They Do in the Dark by Amanda Coe
Cheers, Miwa
---

Miwa Messer is the Director of the Barnes & Noble Discover Great New Writers program, which was established in 1990 to highlight works of exceptional literary quality that might otherwise be overlooked in a crowded book marketplace. Titles chosen for the program are handpicked. by a select group of our booksellers four times a year. Click here for submission guidelines.