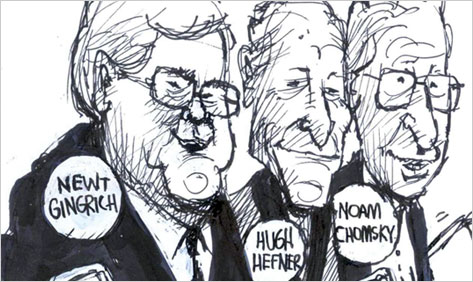 It sounds like a bad joke, except the punchline is really funny. A politician, a playboy, and a philosopher walk into a bookstore, and are asked to pick the book they remember most warmly from their childhoods.
If you ask me, there is no better evidence of the shared culture of books than the fact that when Newt Gingrich, Hugh Hefner, and Noam Chomsky were asked the question by the Little Auction That Could (more on that below), they expressed a fondness for the same characters and the same imaginative world. Go ahead, try to guess. We'll provide the answer on November 23, by revealing the other half of Pulitzer Prize-winning cartoonist Mike Luckovich's illustration celebrating the unexpected communion of spirit exhibited by Misters Gingrich, Hefner, and Chomsky.
The Little Auction That Could is a celebrity book auction to benefit Florida's Hibiscus Children's Center, working with abused and neglected children on the Treasure Coast of Florida. The proceeds of the auction will build a fund to support and maintain the Center's library and educational center. The prominent figures who have contributed signed books to the auction include President Obama, Tiger Woods, Jimmy Buffett, Steve Martin, Jane Goodall, John McCain, Noam Chomsky, John Glenn, Jack Nicklaus, Kenneth Cole, Oprah Winfrey, J.K. Rowling, Maya Angelou, and Carl Hiassen, who will be hosting the gala auction event on November 20. To learn more about the auction — and to bid on some of the signed books — visit http://www.littleauctionthatcould.org/1.html.
To help the Hibiscus Cause with your Barnes & Noble purchases, shop here: www.bn.com/hibiscus.
And check this space on November 23 to discover what Gingrich, Hefner, and Chomsky have in common.
-JAMES MUSTICH