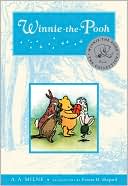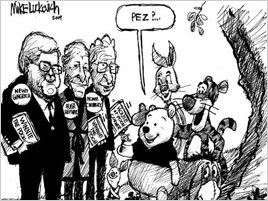 What children's book character do Noam Chomsky, Newt Gingrich, and Hugh Hefner share an affection for? Readers of this blog will remember our asking that question a couple of weeks ago, when we learned that the philosopher, the politician, and the playboy had exhibited an unexpected consensus on their favorite childhood reading.
The trio — along with dozens of other notable Americans — had been asked to donate a signed copy of their favorite children's book to benefit Hibiscus Children's Center, a Florida Treasure Coast organization dedicated to helping abused and neglected youth. And — as memorialized in Pulitzer Prize-winning cartoonist Mike Luckovich's illustration, reproduced here — Misters Chomsky, Gingrich, and Hefner each responded by acknowledging their enduring fondness for A. A. Milne's Winnie-the-Pooh.
Friday night in Stuart, Florida, at a gala event emceed by bestselling novelist Carl Hiaasen and including a presentation by bibliophile Nicholas Basbanes, who described an inspiring encounter with Abraham Lincoln's grammar book, Hibiscus supporters bid on signed books donated by celebrities from the worlds of politics, entertainment, literature, and science.
Top bid of the night — $6,500 — went for the volume sent by President Barack Obama, Pop-Up White House, although bragging rights belong on the other end of the political spectrum, with a reported $850,000 — you read that right — pledge received earlier in the week for a copy of The Travels of Babar donated by Jeb Bush and signed by the former Florida governor and his mother, former First Lady Barbara Bush.
Other books sold at Friday evening's event included signed contributions from:
J. K. Rowling (Harry Potter and the Deathly Hallows, $2,600)
John Glenn (Tom Swift: Circling the Globe, $1,300)
Jack Nicklaus (The Little Engine That Could, $1,600)
Maya Angelou (Struggling Upward, $2,900)
Jane Goodall (Tarzan of the Apes, $4,500)
Oprah Winfrey (Strawberry Girl, $3,200)
Tiger Woods (Training a Tiger, $1,500)
Jimmy Buffett (Treasure Island, $2,200)
To help the Hibiscus cause with your Barnes & Noble purchases, shop here: www.bn.com/hibiscus.
You can read more about the auction and the good work it supports here:
http://www.littleauctionthatcould.org/1.html.
-JAMES MUSTICH