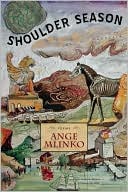 A Poem by Ange Mlinko
We continue our celebration of National Poetry Month, and Coffee House Press, with a poem from Ange Mlinko's just published collection, Shoulder Season.
Corporate Abstraction
In the weeks after the catastrophe
I reported to work only to brood at my cubicle
and feel the trembling of the river
like a Rubicon.
From a yellow window
in a Class-C building I couldn't tell
a battered slip of paper in a downdraft
from a gull.
Downwind, the Battery.
Coming up the west side from the park
I felt the trembling of two rivers
the moment they fork.
To walk to the smoking pit on my lunch hour
to see through the fence
and stand there on tiptoe
to match the suspense
of the iconic sculpture on the square
which the rube
in me thought stupid, balanced on its
corner. "Red Cube."
__________________________________________________________________________________
From Shoulder Season by Ange Mlinko. Copyright © 2010 by Ange Mlinko.
Published by Coffee House Press: www.coffeehousepress.org.
Used by permission of the publisher. All rights reserved.