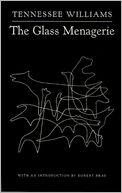 The Glass Menagerie opened on Broadway on this day in 1945, this first major hit springboarding Tennessee Williams to fame. The opening-night standing ovation lasted through twenty-five bows; the production ran for eighteen months, winning the 1944–45 New York Drama Critics Circle Award and, for better or worse, transforming the playwright's life: "I was snatched out of virtual oblivion and thrust into sudden prominence, and from the precarious tenancy of furnished rooms about the country, I was removed to a suite in a first-class Manhattan hotel."

The quotation is excerpted from "The Catastrophe of Success," first published in The New York Times at the end of 1947 — just days before the opening of Williams's second hit, A Streetcar Named Desire. Williams had a lifelong vulnerability, or attraction, to catastrophes of various sorts — the biographies document a lifetime of erratic behavior, much of it fueled by alcohol and drug addiction. But success, he cautioned, represents "the seduction of an effete way of life" that flatters its victims with "false dignities and conceits," replacing all that is genuine with an "artifice of mirrors."

Jim, the uncomplicated gentleman caller in The Glass Menagerie, gives Laura his own key to success, just before waltzing her into her glass collection:
You know what I judge to be the trouble with you? Inferiority complex! Know what that is? That's what they call it when someone low-rates himself! I understand it because I had it, too. Although my case was not so aggravated as yours seems to be. I had it until I took up public speaking, developed my voice, and learned that I had an aptitude for science. Before that time I never thought of myself as being outstanding in any way whatsoever!… [He takes out his gum.] Excuse me, Laura. I always take it out when the flavor is gone. I'll use this scrap of paper to wrap it in. I know how it is to get it stuck on a shoe…. Yep — that's what I judge to be your principal trouble. A lack of confidence in yourself as a person.
---
Daybook is contributed by Steve King, who teaches in the English Department of Memorial University in St. John's, Newfoundland. His literary daybook began as a radio series syndicated nationally in Canada. He can be found online at todayinliterature.com.