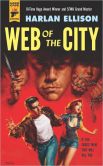 After its brief hiatus some years ago, the Hard Case Crime imprint has bounced back better and bigger than ever. (Literally bigger, since they now issue their titles in trade paperback format, rather than mass-market size). With a well-balanced blend of reprints and new material, they continue their reign as the top-flight purveyor of hardboiled, caper and noir reading.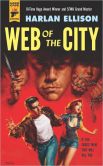 Among their reissues this year is Harlan Ellison's first novel, Web of the City. Written in 1956 but not published till 1958, the novel perfectly evokes the era of Brando's The Wild One, a switchblade-slinging, cool-cat-jiving, nosecone-bra-thrusting orgy of violence, anomie and general "juvie" bad manners. Trying to reform and leave his old gang, the Cougars, Rusty Santoro must battle the expectations and strictures of society, family and his own zipgun-toting posse. Ellison's compelling prose is rife with colorful metaphors, yet also starkly evocative of feeling and place. "Rusty knew he would remember what the big Negro looked like…the lines of the face, the meaning in the eyes, the whole damned-forever thing… He would keep it close and any time he might need it there would be no trouble getting it out…" Three bonus stories of the same vintage provide further proof of Ellison's early and perpetual commitment to capturing life in all its squirming, dirty glory.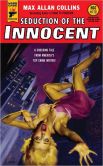 In Seduction of the Innocent—third in a series but utterly standalone—Max Allan Collins also visits the 1950s, but with the twenty-twenty hindsight of a fond satirist writing in 2013 and playing a Jonathan Latimer-style game. As the resonant title might indicate to historically minded superhero aficionados, the milieu Collins chooses for his action is the New York City-based comic book industry circa 1954. But all the names have been changed to protect the innocent. Moralizing scourge Dr. Fredric Wertham becomes Dr. Werner Frederick. Bill Gaines of EC horror comics infamy becomes Bob Price of Educational Funnies. And so forth. Our good-natured, somewhat bumptious narrator is Jack Starr, who manages a newspaper syndicate—and also hefts a mean private eye's portfolio. Collins spends the first half of the book crime-free, setting up tensions among the players. A mid-plot murder precipitates Jack Starr's goofy, enjoyable sleuthing. And a gorgeous handful of interior illustrations by Terry Beatty constitute the delicious frosting on this quintessentially New York black-and-white cookie of a book.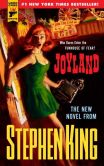 Stephen King consummately honors several traditions with his rare paperback original, Joyland. He addresses the novel of carny life and sideshows, where the midway serves as microcosm, such as in those famous books by Ray Bradbury, Charles Finney and William Lindsay Gresham. He pulls off a nostalgic coming-of-age tale, like Summer of '42, full of August giddiness and autumnal longing. And he crafts a taut ghost-story-cum-serial-killer thriller. All within a relatively compact frame, given King's usual proclivity for going long. In the summer of 1973, 21-year-old Devin Jones finds himself employed at a second-tier southern amusement park dubbed Joyland, where he will transition from boyhood to adulthood. Devin's likability, the vibrant mix of other characters, the tactility of the setting, and the surprising array of events compel the reader through King's funhouse ride.