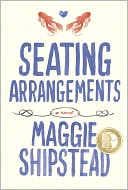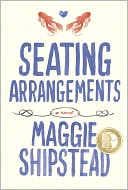 Dear Reader,
Richard Russo, Courtney Sullivan, Justin Torres, and Barnes & Noble booksellers (myself included) aren't the only folks cheering for Maggie Shipstead's firecracker of a debut, Seating Arrangements, a perfect beach read and the newest B&N Recommends selection. Here's just some of what critics are saying:
"There's nothing that raises the blood pressure more than a destination wedding. As Maggie Shipstead's delightful debut novel proves, this is particularly true when two wonderfully dysfunctional WASPy families, a gaggle of temptress bridesmaids, and one rowdy groomsman are all ensconced on a picturesque Nantucket-like island off the New England shore for a three-day wedding-weekend extravaganza. Shipstead writes with clarity and confidence, nimbly dropping into multiple characters' heads, giving each a distinct voice and point of view but always with great wit and heart. Seating Arrangements brims with sharp observations about love, lust, family, and the real meaning of marital bliss. A-" — Entertainment Weekly

"This is one of those rare debut novels that neither forsakes plot for language nor language for plot. It is gratifying on every scale: We urgently care about how the tangled narratives will resolve, as well as how Shipstead herself will handle her characters' most introspective moments. The novel is teeming with the sort of casual philosophizing that encourages passage-underlining and earnest recommendation, and there's no shortage of delightful figurative language either." — The Boston Globe




"Seating Arrangements, Maggie Shipstead's smart and frothy debut novel, is set on a perfect John Cheever island — the kind where old-money families gather to drink gin and nurture loyalties. Beneath the surface of this summery romp, however, lie animosities, well-paced sexual suspense and a clash between appearances and authenticity." Read more of The New York Times review here.

"The sea breeze blowing through Seating Arrangements is Shipstead's affection for these spoiled people, her tender handling of their sorrows and longings, which you'll respond to even if you don't summer on Nantucket. She's already producing the kind of humane comedy we expect from Richard Russo and Elinor Lipman. …Shipstead's weave of wit and observation continually delights. I wouldn't be surprised if someday she trades her Lilly Pulitzer for something from Joseph Pulitzer." Read more of the The Washington Post review here.

"In her impressive debut novel, Seating Arrangements, 28-year-old Maggie Shipstead brings together all the desired elements of an animated summer read — an exclusive New England island, an elaborate wedding (albeit shotgun), myriad drunken escapades, and decades-old slights and grunts. …Shipstead's sentences simmer and crackle on the page. This reader certainly looks forward to reading the author's next novel, with the hope that she will take as many risks with the interior lives of her characters as she does with her elegant, delightful prose." Read more of The San Francisco Chronicle review here.
Cheers, Miwa
---

Miwa Messer is the Director of the Barnes & Noble Discover Great New Writers program, which was established in 1990 to highlight works of exceptional literary quality that might otherwise be overlooked in a crowded book marketplace. Titles chosen for the program are handpicked. by a select group of our booksellers four times a year. Click here for submission guidelines.