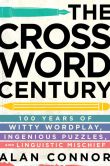 Arthur Wynne's "word-cross," the first crossword puzzle, appeared in the New York World on this day in 1913. The centenary of the crossword has inspired a handful of recent books, among them Alan Connor's The Crossword Century. Connor shows how crosswords swept through the 1920s at such an alarming rate that newspapers proclaimed them to "have dealt the final blow to the art of conversation, and have been known to break up homes." But the crossword was also a conversation starter and even a home maker, in fiction at least. The following is excerpted from P. G. Wodehouse's 1926 story "The Truth About George," in which the bachelor-hero finds that Miss Blake, too, is a crossword addict:
Naturally, with this hobby in common, the young people saw a great deal of one another; for George was always looking in at the vicarage to ask her if she knew a word of seven letters meaning "appertaining to the profession of plumbing," and Susan was just as constant a caller at George's cozy little cottage — being frequently stumped, as girls will be, by words of eight letters signifying "largely used in the manufacture of poppet-valves." The consequence was that one evening, just after she had helped him out of a tight place with the word "disestablishmentarianism," the boy suddenly awoke to the truth and realized that she was all the world to him — or, as he put it to himself from force of habit, precious, beloved, darling, much-loved, highly esteemed or valued.
---
Daybook is contributed by Steve King, who teaches in the English Department of Memorial University in St. John's, Newfoundland. His literary daybook began as a radio series syndicated nationally in Canada. He can be found online at todayinliterature.com.