Critic and ardent home cook Heller McAlpin recommends new cookbooks whose winning voices and visual delights are just as beguiling as the dishes they highlight. (And don't miss her 2013 list of literary Charmers, here).
---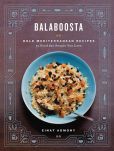 The Balaboosta Cookbook: Bold Mediterranean Recipes to Feed the People You Love
By Einat Admony

Balaboosta is a Yiddish term for a crackerjack homemaker, a domestic whirlwind who does it all. It's an appropriately robust name for Israeli-born Einat Admony's restaurant in Manhattan's Nolita section, which serves hearty, festive Middle Eastern/Mediterranean cuisine, and for this engagingly personal cookbook. which offers reading pleasure that goes beyond the zesty recipes that showcase Admony's Yemenite and Persian roots. It's a good bet for people who love the cuisine of Yotam Ottolenghi and Nigella Lawson.

As forthright and bold as her flavors, Admony introduces a section featuring romantic dishes for two with this hook: "I met my husband, Stefan, in August 2001, two weeks before I married another man." A Yemenite Oxtail Soup she ate "pretty much every Friday night of my childhood" is in the slow-cooked "When Dinner Can Wait" section of the book, while Zucchini Patties fall among quick and easy child-friendly meals. In a note on her Spicy Chicken Tagine she comments, "In my next life, I want to be Moroccan."

Devotees of Admony's fried olives with Labne (a yogurt sauce seasoned with za'atar), crispy fried cauliflower, lamb chops with Persian lime sauce, and the falafel with which she made her name at her first restaurant, Taïm, will find them here. You'll still have to go to the restaurant Balaboosta for her amazing Chicken "Under a Brick," but life is full of trade-offs: Her sinfully rich, not-at-all Mediterranean, homemade "Kit Kat" bars — whose ingredients include crushed cornflakes and nutella — offer compensation aplenty.


---

Modern Art Desserts
By Caitlin Freeman

The Mondrian cake on the cover is — frameworthy. The red-dotted Lichtenstein cake and layered Diebenkorn trifle — somewhat less so. These multi-step confections, all inspired by works at the San Francisco Museum of Modern Art, are for intrepid, experienced bakers with lots of time on their hands. Call it art therapy. Even if you don't know how to separate an egg, a really fun book to browse.

---

The Heart of the Plate: Vegetarian Recipes for a New Generation
By Mollie Katzen
In charming drawings, crisp photographs, and easy-to-follow recipes, the multi-talented Mollie Katzen, author of the original Moosewood Cookbook, entices us with bright, fresh corn, zucchini and tomato-laden Indian Summer Lasagna Stacks, and a slew of vibrant little "Saladitas" such as Avocado-Grapefruit-Mango or Orange-Olive-Fig, meant as condiments but which might double as dessert. Be careful not to confuse this with the earthier, less exciting Moosewood Restaurant Favorites from the Moosewood Collective, also newly released.


---

Martha Stewart's Cakes
By Editors of Martha Stewart Living

No calories in looking! The latest volume in Martha's well-edited baking series, which includes Cookies, one of my never-fail resources, this latest luscious eyeful from the editors of Martha Stewart Living sifts through dozens of cakes by type — loaf, bundt, layer, icebox, fruit, plus cheesecakes and coffee cakes. I'm particularly intrigued by a Peaches and Cream Bundt, a Sticky Buckwheat Cake, a Chocolate Hazelnut Ice Cream Cake, and a Lemon-Fig snacking cake made with olive oil. There's even a Gluten-Free Chocolate Layer Cake with pastel pink frosting!


---

Cooking for Crowds
By Merry White with Drawings by Edward Koren

The fortieth anniversary edition of a 1974 classic by an anthropologist/caterer who introduced many to international and ethnic foods, charmingly illustrated with impish anthropomorphized vegetables and critters by cartoonist Edward Koren. No-nonsense, unusually useful recipes with amounts for 6, 12, 20, or — unlucky you — 50 portions. Almost quaint in their simplicity, these include Chicken Parisienne, described by the author as "A 'safe' casserole for crowds whose tastes are unknown. It is delicious, but no one's palate will be surprised."


---
Tequila Mockingbird: Cocktails with a Literary Twist
By Tim Federle; Illustrated by Lauren Mortimer

Bad puns reign in this bracing tonic of a book, which squeezes the most out of the well-known connection between writers and booze. Among the concoctions: Romeo and Julep, Howards Blend, The Cooler Purple, and One Hundred Beers of Solitude. With names like these, who cares what's in these drinks? For book clubs, Federle uncorks — can you guess? — Gone with the Wine.


Happy reading and eating!