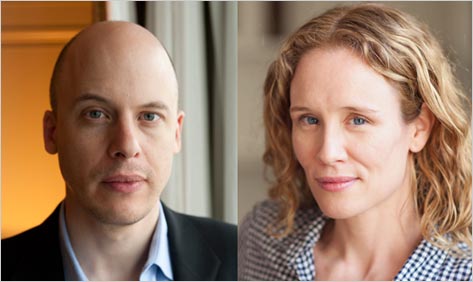 Editor's Note: We've been spending this month celebrating — and following the action at — the ninth annual Tournament of Books, presented by NOOK by Barnes & Noble. Conceived as a book lover's parallel to the national college basketball frenzy of "March Madness," the Tournament, which pits 16 great works of recent fiction against one another in a series of head-to-head critical judgments, has taken on a glorious life of its own. As the winning books advance, NCAA bracket–style, through increasingly tougher rounds, readers follow each day's action to see if their picks will prevail — and to discover some new favorites along the way. Past champions include Cloud Atlas, A Visit from the Goon Squad, The Sisters Brothers, Wolf Hall, City of Refuge, and The Brief Wondrous Life of Oscar Wao.
Since each day's battle-of-the-books comes down to the judgment of a single referee, every year the Tournament's founders at The Morning News.com select an accomplished array of writers to take on the task. Two of this year's judges — Time magazine's book critic and author of The Magicians, Lev Grossman, and Pushcart Prize–winning writer Elliott Holt, author of the forthcoming novel You Are One of Them, joined novelist and Tournament of Books co-founder Rosecrans Baldwin to talk with the Barnes & Noble Review about the task, the perilous business of judging literary awards, and nothing less than (drum roll, please) — the state of fiction today.

Rosecrans Baldwin: To start us off, what do you think about the state of long and short fiction these days? Is the novel an endangered species? Thriving?

Elliott Holt: There are so many pronouncements about the state of novels and short stories that I can't take any of them seriously. People have been saying, "the novel is dead" for years and for the past few years, I've heard a lot of people declare, "this is the year of the short story." Humans have always needed stories and storytelling, so fiction will never be dead. 2012 was a great year for literary fiction. A lot of phenomenal novels were published. Some of them even sold well.

Lev Grossman: Short fiction, I'm not very qualified to pronounce on. As a reader and a writer and a critic I'm mostly interested in the novel. Though I hear this George Saunders fellow is hot.
As for the novel, I'm bullish on it. I'm a bit tired of hearing about its imminent death. The novel is tougher than it looks, and killing it off won't be that easy. In order to survive novels might have to become more "commercial" and less "literary" — whatever those words mean — but that doesn't mean they'll give up their intelligence or vitality or integrity.
RB: How about literary criticism? With online product reviews, social media, what's literary criticism's job description now?
LG: It's definitely changing. There was a time when opinions about novels were relatively rare commodities. You'd have to buy a newspaper or a magazine to get one. Now opinions are everywhere. They're too cheap to meter.
So literary criticism becomes less about giving an opinion, in the sense of a thumbs up or a thumbs down, and more about talking about how best to read novels, and where a particular work stands in the larger context of contemporary culture and literary history, and so on. Which is arguably more interesting anyway.
EH: I completely agree, Lev. To me, literary criticism is not about liking or disliking a book, but about reading it closely and examining its place in larger contexts. That has always been the job of criticism, but in a world where almost everyone plays a critic online (writing reviews of restaurants, books, products, etc.), serious, thorough critics are invaluable.
Social media offer valuable venues for conversations about books, but in that world of likes and retweets, it can be hard to separate honest enthusiasm from publicity. Authors' friends, agents, and publicists tweet about their books to build 'buzz,' but literary critics ignore the buzz and assess books on their own terms. I'm grateful to good literary criticism: for close, insightful reading of a text and an analysis of how the book works or doesn't work. Reading good criticism has made me a better reader and writer.
LG: Exactly. I want to finish a review a better reader than when I started. It's pretty rare that I can say that about a tweet. Not that I have anything against Twitter, which I am on.
RB: Where do you look to find your next great book?
EH: Ah, the "discoverability" question. I hear about a lot of books via Twitter, but I tend to pay attention to recommendations from specific people whose tastes align with mine. And I read book reviews, too.
LG: I read trade magazines like Publishers Weekly, I talk to people in publishing, I talk to other critics and authors, I read Twitter, I look at what people are reading on the subway. Beyond that it's just a matter of remaining curious and hopeful. If you're curious and hopeful enough, great books tend to find you.
EH: "Curious and hopeful." Yes, I love that. But I do think that there are certain people—tastemakers, if you will—whose word will always have more power than others in terms of that coveted, mysterious commodity, "word of mouth." There are people who rely on my book recommendations and there are people (some critics, some acquaintances, some friends) whose recommendations I trust. To me, great fiction is, to quote Flannery O'Connor, both "surprising and inevitable." Too much fiction is either too predictable — both in premise and on the sentence level — or too forced and hackneyed. The novels and stories I like best are surprising in some fundamental way, yet still ring emotionally true.
LG: Oddly enough, we haven't mentioned booksellers. Obviously they're a vital link in the chain. I'll take a human bookseller over a recommendation algorithm any day. In general I think bricks-and-mortar bookstores are major part of the engine of discoverability. The best books are the ones you didn't know you were looking for, and for that kind of discoverability, nothing beats an actual shelf of books in a real-world, flesh-and-blood bookstore.
RB: You're both participating in this year's Tournament of Books. How do we see the Rooster fitting in the award universe?
EH: I like the Tournament of Books because of its transparency: the judges have to explain their decisions.
LG: I find that in general most prize judges rarely talk much about why they made their decisions, what the process was, what criteria were applied, etc. The Rooster comes with a lot of documentation. I'd love to see other prizes following its lead.
RB: Can you think of an instance where an award for a book or a book's appearance on a list changed your response to it?
LG: Not offhand. I try to give all books the benefit of the doubt. I try to read every book as if it just that minute had been awarded the Pulitzer Prize.
EH: I can't think of an award that changed my response to a book, but there are books that I might not have read if they hadn't appeared on a shortlist. I had already read most of the 2012 NBCC Award finalists, for example, but because I generally agree with the NBCC shortlists, I'm excited to read the finalists I hadn't gotten to yet.
LG: Very true. Awards are good for discoverability too!
RB: How do you read — digitally, on paper, both?
LG: Paper only. I'm pretty adamant about it. I don't really consider e-books to be books. They definitely have their uses, but a text file just isn't a book.
EH: I do almost all of my reading in print. I like to underline and scribble in the margins of books and I like turning paper pages. I read literary fiction, mostly, and I like to read closely. I own an iPad and a Nook, though I've only read a few e-books. I read Massie's Catherine the Great on my iPad because I didn't want to lug the hardcover around and I read a few thrillers on my Nook because I knew that I'd only want to read it once. (They were suspenseful page-turners, but books that inspired me to underline passages.)
LG: It's so much easier to annotate paper books! And to go back and re-read passages, compare them…I think this what so often goes unsaid about paper books. Technology is supposed to be interactive and networked and non-linear, but a paper book is so much more interactive and non-linear than an e-reader.
RB: What are some dark spots of publishing that you think deserve more attention — little-known publishers, magazines?
LG: There a lot of them. There's incredible stuff happening in fantasy and science fiction, particularly fantasy right now, that the wider literary world knows little of. When I see a fuss being made over writers like me or Karen Russell, who write fantasy that's published by mainstream literary publishers, my first thought is, great! And my second thought is, there are so many great writers doing similar work who don't get this kind of coverage. I look at the lists of houses like Small Beer and Nightshade…there are enormous riches there.
Likewise I just read a story collection called The Era of Not Quite, by Douglas Watson. It was brilliant. The publisher was BOA Editions, which I'd never even heard of.
EH: Great books find readers. Edith Pearlman's Binocular Vision (Lookout Books), Ben Lerner's Leaving the Atocha Station (Coffee House Press), and Paul Harding's Tinkers (Bellevue Literary Press) were all published by small, independent presses that a lot of people hadn't heard of. Small independent publishers can take editorial risks that big houses can't.
It's not really a secret that NYRB Classics has a great list, but I'll read anything they publish. I've fallen in love with so many books that were out of print until they brought them back.
LG: There's even great fan fiction out there — start digging through a website like The Archive of Our Own, you'll be stunned by what you find. Some of it's awful, but some of it's really raw and powerful. It makes you realize how much richness there is out there that goes unappreciated. The literary universe is a great place, but it's not especially meritocratic.
EH: I love short stories, so I wish that more people subscribed to literary magazines that publish short fiction (and pay their authors for it). In my dream world, the likes of Tin House, One Story, Ploughshares, and The Kenyon Review would have as many subscribers as The New Yorker.
****************************************
Rosecrans Baldwin is the author of a travel book, Paris, I Love You but You're Bringing Me Down, and a novel, You Lost Me There. He co-founded The Morning News and reviews books for NPR's "All Things Considered."
Lev Grossman is the author of the New York Times–bestselling novels The Magicians and The Magician King. He's also the book critic at Time magazine, and his work has appeared in The New York Times, Wired, The Wall Street Journal, The Believer, and many other places, as well as on NPR.
Elliott Holt's short fiction has appeared in The Pushcart Prize XXXV (2011 anthology) among other places. Her debut novel, You Are One of Them, will be published by The Penguin Press on May 30, 2013.