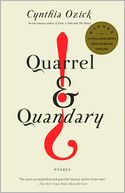 Cynthia Ozick was born in New York on this day in 1928. Among the high praise for Ozick's novels and essays is Anita Brookner's comment that she is "as authentic a voice of New York as was Edith Wharton before her," allowing that Ozick's terrain is not some Washington Square but "an affair of battered suburbs, of cavernous municipal buildings, of ancient Hebrew teachers living above Cuban grocery stores." Ozick's "A Drug Store Eden," included in the essay collection Quarrel & Quandary (2000), tells of the pharmacy her immigrant parents ran in the Bronx — specifically, of their dubious plan to move up from the pharmacy they rented to one they might own:
My mother was aflame with ambition, emotion, struggle. My father was reticent, and far more resigned to the world as given. Once, when the days of the Traveling Library were over, and a real library had been constructed at Westchester Square — you reached it by trolley — I came home elated, carrying a pair of books I had found side by side. One was called My Mother Is a Violent Woman; the other was My Father Is a Timid Man. These seemed a comic revelation of my parents' temperaments. My mother was all heat and enthusiasm. My father was all logic and reserve. My mother, unrestrained, could have run an empire of drug stores. My father was satisfied with one.

Together they decided to do something revolutionary; something virtually impossible in those raw and merciless times. One street over — past McCardle's sun-baked gas station, where there was always a Model-T Ford with its hood open for repair, and past the gloomy bait store, ruled over by Mr. Isaacs, a dour and reclusive veteran of the Spanish-American War who sat reading military histories all day under a mastless sailboat suspended from the ceiling — lay an empty lot in the shape of an elongated lozenge. My parents' daring plan — for young people without means it was beyond daring — was to buy that lot and build on it, from scratch, a brand-new Park View Pharmacy.

They might as well have been dreaming of taking off in Buck Rogers' twenty-fifth-century rocket ship….
---
Daybook is contributed by Steve King, who teaches in the English Department of Memorial University in St. John's, Newfoundland. His literary daybook began as a radio series syndicated nationally in Canada. He can be found online at todayinliterature.com.