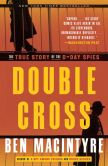 The Normandy D-Day invasion began on this day in 1944. The success of Operation Overlord depended heavily upon multiple layers of secrecy and surprise — a Russian doll of deceit, each stage leading the expectant Germans ever further from the exact time and place of the Allied landings:
The D-Day deception plot involved every branch of the war machine: scientists laid false trails, engineers built dummy tanks, radio operators put up a barrage of fake signals, and counterfeit generals led nonexistent armies toward targets that were never in danger.
The above is excerpted from the Preface to Ben Macintyre's just-published Double Cross,which tells "The True Story of the D-Day Spies." Macintyre's title refers to the "Double Cross" system whereby Allied intelligence officers used German double agents to mount Operation Bodyguard, named after Churchill's legendary comment: "In wartime, truth is so precious that she should always be attended by a bodyguard of lies":
The central aim of Operation Bodyguard was to fool the Germans into believing the invasion was coming at a point where it was not, and that it was not coming in the place where it was. More than that, to ensure that those troops preparing to fight off the bogus invasion were not redeployed to repel the real one, the deception must be maintained after D-Day. Goliath could be cut down to size only if he didn't know which direction David's slingshot was coming from and was kept guessing.
Within Operation Bodyguard was Operation Fortitude, a vital plan dependent upon an inner circle of double agents who, says Macintyre, "were, without question, one of the oddest military units ever assembled":
They included a bisexual Peruvian playgirl, a tiny Polish fighter pilot, a mercurial Frenchwoman, a Serbian seducer, and a deeply eccentric Spaniard with a diploma in chicken farming. Together, under Robertson's guidance, they delivered all the little lies that together made up the big lie.… The Double Cross spies were, variously, courageous, treacherous, capricious, greedy, and inspired. They were not obvious heroes…. One was so obsessed with her pet dog that she came close to derailing the entire invasion.
---
Daybook is contributed by Steve King, who teaches in the English Department of Memorial University in St. John's, Newfoundland. His literary daybook began as a radio series syndicated nationally in Canada. He can be found online at todayinliterature.com.