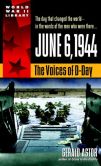 Allied forces began their D-Day invasion on this day in 1944. As the number of World War veterans dwindles — the last combatant in WWI died in 2011 — the first-person battle accounts seem to increase in value. The excerpt below is from Gerald Astor's June 6, 1944: The Voices of D-Day, this voice that of Lt. Robert Eldin of the U.S. Army's 2nd Ranger Battalion:
…The navy had opened up. It seemed like the whole world exploded. There was gunfire from battleships, destroyers, cruisers. The bombers were still hitting the beaches. There didn't seem any to be any way that anyone could live on the beaches with the amount of firepower that was being laid down…. I took stock of the men in my boat. They were vomiting on each other's feet and on their clothing. It was just a terrible sight. They were so sick from the action of the waves. There was a deep silence. All the gunfire had lifted for a very short time. The navy was giving way to let the troops get on the beaches.… Then there came something like a peppering of hail, heavy hail on the front of the ramp. I realized it was enemy machine gun fire. All hell broke loose from the other side, German artillery, rockets, and mortars. It was just unbelievable that anybody could have lived under that barrage. It came in through our boat and the other boats. We crouched in the bottom of the boat in the vomit, urine, and seawater, whatever was there. The assault boat hit a sandbar. We were at least seventy-five yards from shore. I told the coxswain, the operator of the boat, "Try to get it in further." That British seaman had all the guts in the world, but he couldn't get the assault craft off the sandbar. So, I told him to drop the ramp or we were going to die right there.
---
Daybook is contributed by Steve King, who teaches in the English Department of Memorial University in St. John's, Newfoundland. His literary daybook began as a radio series syndicated nationally in Canada. He can be found online at todayinliterature.com.