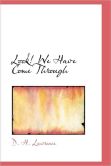 In the Foreword to Look! We Have Come Through! (1917), D. H. Lawrence describes his poetry collection as a connected "story, or history, or confession of a man during the crisis of manhood, when he marries and comes into himself." Autobiographically, the crisis was provoked by the emotional tumult of Lawrence's recent past — his meeting with Frieda Weekley, their running off to Europe and subsequent marriage. In poems such as "New Year's Eve," Lawrence conveys his passion with such erotic intensity that W. H. Auden said he felt more like a Peeping Tom than a reader:
There are only two things now,

The great black night scooped out

And this fire-glow.

This fire-glow, the core,

And we the two ripe pips

That are held in store.

Listen, the darkness rings

As it circulates round our fire.

Take off your things.

Your shoulders, your bruised throat!

Your breasts, your nakedness!

This fiery coat!

As the darkness flickers and dips,

As the firelight falls and leaps

From your feet to your lips!
Look! We Have Come Through! was published the same year as T. S. Eliot's Prufrock and Other Observations. "Take off your things" is not the sort of thing that J. Alfred dared say, and Lawrence soon came to stand for all that Eliot's Prufrockians did not — the fiery blaze of phoenix-life, an alternative for an age drowning in postwar despair, cultured irony, and empty intellectualizations.
---
Daybook is contributed by Steve King, who teaches in the English Department of Memorial University in St. John's, Newfoundland. His literary daybook began as a radio series syndicated nationally in Canada. He can be found online at todayinliterature.com.