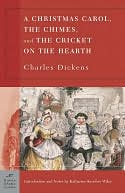 December 25: Onthis day in 1992 Monica Dickens died. For many, Christmas is stamped with thecharacters created by her great-grandfather and the customs he popularized, butthere are many parallels that could be drawn between the two. Many of Monica'sthirty-six books reflect the same warmth and humor about ordinary living, andher last book, the posthumously-published, Befriending:The American Samaritans, reflects her life-long interest in charity work (shefounded the first American branch of the Samaritans). Charity work is perhapsin the Dickens blood: the Charles Dickens Heritage Foundation, established bythe family of a great-great-grandson of Dickens, provides aid to organizationshelping the homeless, disabled, elderly, and other at-risk groups.
In her introduction to a 1967 edition of A Christmas Carol, Monica writes thatthe book changed not just its readers and Christmas but her great-grandfather,"because he found that he believed in the moral as he gave it life."Believed in the festivities, too: in a letter written just after the Carol was published in December, 1843,Dickens reports that he broke into celebration "like a madman," with"such dinings, such dancings, such conjurings, such blind-man's-bluffings,such theatre-goings, such kissings-out of old years and kissings-in of new ones[as] never took place in these parts before…. And if you could have seen me atthe children's party at Macready's the other night…. " Jane Carlyle (wifeof Thomas) did see him at that party, as described in her own letter later:
Only think of that excellent Dickens playing the conjurorfor one whole hour, the best conjuror I ever saw…. After supper when we wereall madder than ever with the pulling of crackers, the drinking of champagne,and the making of speeches; a universal country dance was proposed¯and Forsterseizing me round the waist whirled me into the thick of it, and made me dance!!like a person in the treadmill who must move forward or be crushed to death.Once I cried out, "Oh for the love of Heaven let me go! you are going todash my brains out against the folding doors!" "Your brains!!"he answered, "who cares about their brains here? Let them go!"
---
Daybook is contributed by Steve King, who teaches in the English Department of Memorial University in St. John's, Newfoundland. His literary daybook began as a radio series syndicated nationally in Canada. He can be found online at todayinliterature.com.