Revolutionaries, geniuses, and master manipulators of history.
---
By Jean-Vincent Blanchard
Though the name Cardinal Richelieu was made most famous — or infamous — through Alexandre Dumas' fictional rendering of him as the power behind the Bourbon throne, the real Armand-Jean du Plessis proves a fascinatingly many-sided figure in Jean-Vincent Blanchard's new study. A ruthless supporter of his royal patron, Louis XIII, the "Red Eminence" was also a lover of literature and the theatre, and the founder of the Académie Française. A richly rewarding study of both an early student of absolute state power, and how his influence built the foundation for France's domination of seventeenth-century Europe.
---
By Miles J. Unger
Before he authored The Prince, Niccolò Machiavelli was a playwright, diplomat and civil servant in the Florence of the Medicis, until his dismissal from office in 1513. His handbook for rulers — which he penned in the hopes that a rising young member of the ruling family would find it pleasing, and hire him anew — gave him a reputation for cold political calculation that would endure for centuries. Yet, as Miles J. Unger's perceptive biography shows, the man himself was no mere cynical worshipper of power, but an advocate for a realistic philosophy of governance — one which informs constitutional law to this day.
---
By Hilary Mantel
This fictional portrait of the commoner who rose to become Henry VIII's legal adviser and chief fixer put the spotlight on a lawyer whose role in English history had long been shadowy, in more than one sense. A self-educated commercial man — and former mercenary soldier — in an age that still looked to feudal ties as the foundation of society, Thomas Cromwell supervised Henry's dissolution of the monasteries, and the execution of Sir Thomas More. Mantel brings humanity — and even a kind of heroism — to a figure often understood as one of the great schemers of his age.
---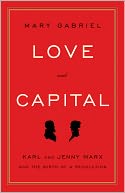 Love and Capital: Karl and Jenny Marx and the Birth of a Revolution
By Mary Gabriel
"The influence of Marx's ideas has been so momentous that at this point the name Karl Marx hardly even seems to attach to a person," writes our reviewer, Troy Jollimore. Indeed, few thinkers have had as great an effect on the twentieth century as Karl Marx — and few have had their private lives so completely effaced by their philosophical and political legacies. Mary Gabriel's fascinating new book sheds light on Karl Marx the loving husband, the doting — and grieving — father, the impoverished exile, and the suprisingly mischeivous collaborator with Engels.
---
By Stephen Englund
More than the most feared and effective military leader of an era, Stephen Englund finds Napoleon Bonaparte to have been the culmination of the French Revolution. He was a hero to many of his era, and the most terrible villain to others. Through this in-depth look at his career from his youth in Corsica through his triumphs and reversals as Emperor, Englund argues that Napoleon's political ideas are as significant as his battlefield genius and savvy statesmanship. In the end, the changes he wrought would transform not only modern war, but the shape of a continent.