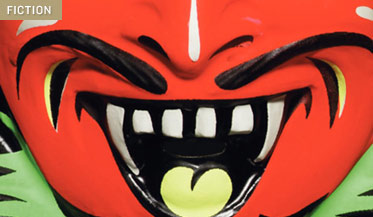 When was the last time you read a book that was so inventive that it left you breathless, literally, and also somewhat frightened? A book that used language with such intrepid flourish it humbled you to learn that the written word could do this, this to you. Well, get prepared for a full-on assault on your senses with Nicola Barker's wildly imaginative Darkmans.

Barker is the acclaimed writer of six novels and two short story collections. Her novels have traversed such diverse themes as pedophilia and the depredations of celebrity. Clear, her last, written in just over three months, was a reaction to the public hounding of illusionist David Blaine.

Beginning September 2003, Blaine spent 44 days without food inside a transparent plastic box suspended in the air near London's Tower Bridge. While Blaine has routinely performed such death-defying stunts, this one became the subject of widespread public derision. People threw stuff at him (well, not him, since he was inside the box), and the paparazzi had a field day photographing the spectacle.

Barker, on her part, has always sided with the underdog. Apart from her sympathy for Blaine, she has also expressed an interest in the Jade Goody?Shilpa Shetty affair. For the uninitiated, Goody, a British celebrity, was accused of racist barbs against Shetty, an Indian actor, on the hit TV series Celebrity Big Brother in the U.K. The case received international headlines, and Goody was castigated in the press for her treatment of Shetty.

Through her writing, Barker has sought to denounce the holier-than-thou attitude that the media and the public at large adopted toward Blaine and Goody. In this respect, Clear was a personal work, driven by her need to analyze an issue that "spoke volumes about where we were as a nation, culturally, politically and emotionally."

Barker has never been one for straight storytelling formats. She likes to flex her narrative muscle and nearly always comes out tops. Her latest, the 2007 Man Booker Prize-shortlisted Darkmans, is a complex work, part modern fable, part historical myth. Embellished with Barker's swashbuckling style, it is a work that's gripping, smart, and genuinely funny.

The setting is the town of Ashford in Kent, known far and wide for a passenger station built for the Channel Tunnel. But behind the ritzy facade of change lie the struggle and crushed hopes of the town's locals, who lost a campaign to resist "modernity." Progress has kicked Daniel Beede, who spearheaded the campaign, "squarely in the balls."

The novel begins with a chance meeting at a caf? between Beede and his son Kane, two people who cannot see eye to eye on anything. As we divine that all is not normal in their relationship, Barker takes us into what made Beede the man he is — broken and devoid of the passion he once held for life.

Beede is now the laundry supervisor at the local hospital, and ironically, his drug-dealing son relies on the hospital staff to keep his operations running. Kane and Beede don't just fail to communicate; their discord runs much deeper. Kane's mother and Beede separated a long time ago, and the lady died after a protracted illness. Kane has striven to be everything that Beede isn't, and to do everything his father advises him against.

Soon, amid the storm of language — people's thoughts are evoked in fits and starts, so that the narrative rushes along at a phenomenal pace, without pause — the central character of the book is introduced: he is a 15th-century jester at the court of Edward IV, John Scogin, who enters Beede's world when a mysterious stranger sends the desperate man a copy of Scogin's Jests. Scogin is the "dark man" who, we will soon see, hovers above the book like a phantom.

In addition to Beede and Kane and the curious figure of Scogin, Darkmans flaunts a sprawling cast of characters. There is Elen, a chiropodist who is ostensibly treating Beede but has a mysterious persona that is terribly attractive to Kane. There is Elen's husband, Dory, who traverses the novel in a haze of mental illness. He suffers from acute sleeping disorders, and Barker brings him to life in exacting prose.

Then there is Kane's girlfriend, Kelly Broad, who comes from an illustrious family of thieves and, presently, is being helped by a Romanian who is actually a Kurd. That's Gaffar Celik, Kane's unwitting Man Friday, who speaks in a mix of Turkish and English.

With Gaffar especially, Barker introduces a device that writers may want to emulate in future. She lets Gaffar's eloquent Turkish intermingle with his atrocious English, and to convey this, she uses a different ornate font for Turkish. The effect is a smooth transition between the two languages that manages to indicate which is which — without confusion, and with a real feel for how immigrants straddle disparate tongues. Similarly, the thoughts of various characters are presented in italics throughout, and the text switches between straight storytelling and jumpy narration.

A review can only reveal the tip of this 800-page iceberg. Suffice it to say that the reader, like the characters, is in the grip of unearthly affairs, and the ghost of Scogin has conspired to bind us all in a web of deepening intrigue. But why Scogin? Not much is known about this man, who also served as jester in Richard III's court. Barker has said in an interview that in spite of his time, Scogin appeared to her as a very modern creature, "a cruel, ruthless and terrifying opportunist."

Indeed, it is this image of Scogin that one takes away from this book, a ghost bent on wreaking havoc in the lives of the characters. Kane discovers he is using words he never knew existed and openly discussing things, like his mother's death, that he thought he had long buried. Kelly is chuffed to learn that she may be a descendant of Andrew Board, the renowned physician and writer who compiled — what else? — Scogin's Jests. And Dory goes about performing tricks that are eerily, and laughably, familiar to Scogin's.

The amazing thing is that Barker's sleight-of-hand works at several levels. Apart from the plot and the writing, it is her daring play with words — a feat achieved with original skill — that unshackles the text from the confines of the page and bestows on it an intense, fiery, almost dangerous energy.