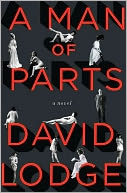 The British novelist David Lodge was born on this day in 1935. Lodge is a retired English professor, many of his books based on his twenty-seven years at the University of Birmingham. In the first of these satiric "campus novels," The British Museum Is Falling Down (1965), the central character is a struggling Ph.D. student — not least among his struggles a dissertation on "The Structure of Long Sentences in Three Modern English Novels." The hero of Deaf Sentence (2008), a former linguistics professor, is all too aware that his hearing problems — he misses or misconstrues consonants — have placed him among the risible retired. "Deafness is comic," he muses, "as blindness is tragic." In Small World, shortlisted for the 1984 Booker, a group of eminent professors of English in competition for a prestigious and lucrative appointment travel the world looking for symposia at which they can blow their horn, bed their colleagues, and freeload. Though not one of these types per se, the young academic Persse McGarrigle, from Limerick, gets swept up in all the gamesmanship. At one point, McGarrigle gets schooled by Professor Zapp, a postmodernist from California who has arrived at an Amsterdam conference ready for any promotional opportunity:
"What conference?"
Morris Zapp indicated the large plastic disc dangling from his lapel, which had his name printed inside a circular inscription, "VIIth International Congress of Literary Semioticians." On his other lapel was a bright enamel button which declared, "Every Decoding is Another Encoding." "I had it made at a customized button shop back home," he explained. "Everybody here is crazy about it. If I'd brought a gross with me I could have made a fortune."
After too much gin, Persse and Zapp head reluctantly for the lecture hall. Here, in aid of explaining "A Semiotic Theory of Genre," another hopeful professor has placed on every chair "a handout which looked at first sight like the blueprint for an electric power station, all arrows, lines and boxes…."

Lodge moves away from academia in A Man of Parts, his just-published novel about H. G. Wells. But the new book returns to some of the earlier themes: "Lodge has made something of a specialty of intellectuals behaving badly in bed," says critic Christopher Benfey in his review.
---
Daybook is contributed by Steve King, who teaches in the English Department of Memorial University in St. John's, Newfoundland. His literary daybook began as a radio series syndicated nationally in Canada. He can be found online at todayinliterature.com.