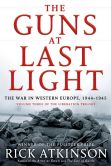 U.S. Army private Eddy Slovik was executed by firing squad on this day in 1945, the only American soldier killed for desertion since the Civil War. The Guns at Last Light, the bestselling final volume in Rick Atkinson's recent study of WWII, has been praised for its "pointillism history" — a technique based on Atkinson's ability to assemble "small dots of pure color into a vivid, tumbling narrative" (Ben Macintryre, The New York Times Book Review). The dots of color leading up to Slovik's death include letters and diary entries written by soldiers who had grown, says Atkinson, "sardonic, cynical, old before their time." Some turned numb to the surrounding horror; some turned vengeful, whether toward prisoners, civilians, or authority; and some turned to flight. Aware of the increasing lack of discipline, General Eisenhower apparently decided to make a point of Slovik's desertion and to underline this "lesson to shirkers" by having men in Slovik's unit carry out the execution. Twelve of the best marksmen in the 109th Infantry Regiment were chosen, and after waiving his right to a final statement (beyond "Please shoot straight so I won't have to suffer"), Slovik was hooded and tied to a post:
Eleven bullets struck Slovik, including two in the left arm; not one hit his heart. Even the Army's finest marksmen trembled at such an awful moment. Three physicians with stethoscopes listened to the wounded man's shallow breathing and irregular heartbeat as the squad prepared to load. "The second volley won't be necessary," a doctor pronounced at 10:08 a.m.… A priest anointed the body with oil. Slovik would be buried outside a World War I cemetery at Oise-Aisne, near Soissons, in row three of Plot E — a hidden, unsanctified tract reserved for the dishonorable dead.
---
Daybook is contributed by Steve King, who teaches in the English Department of Memorial University in St. John's, Newfoundland. His literary daybook began as a radio series syndicated nationally in Canada. He can be found online at todayinliterature.com.