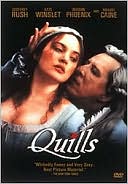 December 2: Onthis day in 1814 the Marquis de Sade died at the age of seventy-four. The lastdays of de Sade's twenty-seven years of confinement were spent pretty muchroutinely, writing protest notes and contriving assignations with his latestand final inamorata, a seventeen-year-old laundress at the Charenton asylum.This journal entry wonders at the girl's "coldness," this one hopesthat her vow to be only his is sincere, this one fears that she and her motherare just after the 3 francs per visit. De Sade's will, written a decade earlierbut in full knowledge of his likely fate, asked for no "pomp of any kind,"his body to be buried in a specific copse on the family estate. The will'sdetails indicate that the man who had become a byword for all things unnaturalhoped to be returned to nature and oblivion:
Once the grave has been covered over, it shall be strewnwith acorns so that eventually the site of said grave will be refilled, and thecopse will grow as thickly as before, so that the traces of my grave willdisappear from the surface of the earth, as I trust my memory will disappearfrom the memory of men….
De Sade scholars point out that, although never forgotten,his life has not always been remembered in the same way. In the first decadesafter his death, he was as much a pariah as when alive, but with the officialentry of sadisme into Frenchdictionaries in 1834, there was a gradual shift away from the horrible man tothe horrible but interesting books. With the Romantic fringe, and then theSurrealists, the vilification shifted to deification, with de Sade portrayed asa champion of boundary-pushing, or anarchy. For the 20th-centurypsychologists, many of whom take a Freudian approach, de Sade has become apopular case study. In Francine du Plessix Gray's recent and nicely titled At Home with the Marquis de Sade, therebel-hero is also a big baby who "howled like an infant to be readmittedto the paradise of instant gratification, constantly schemed for yet strongerorgasms, yet more baroque choreographies of desire." In Quills, Doug Wright's award-winning play(then popular 2000 movie) Doug Wright says that he was trying to teach today'scollege kids that de Sade was "the original rebel, before Eminem andMarilyn Manson."
---
Daybook is contributed by Steve King, who teaches in the English Department of Memorial University in St. John's, Newfoundland. His literary daybook began as a radio series syndicated nationally in Canada. He can be found online at todayinliterature.com.