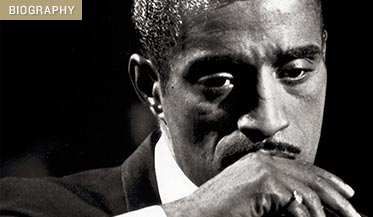 Nearly 50 years after the early-1960s heyday of Frank Sinatra's "Rat Pack" in Las Vegas, interest in Frank and his cronies Dean Martin and Sammy Davis Jr. has turned into a cottage industry, with a constant stream of video releases, repackaged CDs, and impersonator concerts ensuring that the boys are ever present on the American cultural scene. Indeed, Sinatra, who died in May 1998, notched the country's second-bestselling CD in May 2008, his canonization further secured with the issuing of 120 million first-class Sinatra postage stamps. Dean Martin remains current with a steady re-release of his CDs and has long since passed into collective memory as Dino, the arbiter of cool. It's a state of affairs that leaves Sammy Davis Jr. the odd man out. It shouldn't be thus — Davis was astonishingly talented as singer, dancer, and mimic, but his image is encountered infrequently, if at all, these days. Why the disconnect? That's exactly the question journalist Matt Birkbeck has set out to explore in his tell-all Deconstructing Sammy.

Birkbeck is sure of his mission; on the acknowledgments page, his first words are the rather startlingly self-reverential: "This important book…," while the subtitle reveals his focus: "Music, Money, Madness, and the Mob." While superb musicianship made Sammy's popularity possible, money quickly became his priority, and after he hit the big time, his life became a nonstop orgy of excess. One of the highest-paid entertainers on the Las Vegas strip, Sammy spent the money faster than he could earn it, buying jewelry, furs, and drugs in ever-increasing quantities. He grossed over $50 million in his career, but at the time of his death in 1990, his assets totaled $5 million, while his debts were more than three times that amount. With Davis's estate owing millions to the government, potential purveyors of the Sammy Davis Jr. image were few and far between. As a result, in Birkbeck's words, "Since Sammy's death?it was as if Sammy never existed." How, the author wonders, could such a state of affairs have occurred?

Birkbeck sketches in details of Sammy's professional life, and the difficult path he walked as early-1960s America's most visible black entertainer. Triumphs onstage were offset by his personal difficulties: marriage to the Swedish blonde May Britt drew hate mail and death threats. A negligent parent who spent virtually no time with his children, Davis was so self-absorbed that his son Mark relates flying to Vegas to visit his father, only to be "forced to wait three hours outside Sammy's hotel room while Sammy entertained other guests." Although he was initially hailed as a trailblazer, Davis's gaudy lifestyle and obeisance to Sinatra caused uneasiness within the black community — an uneasiness that exploded into charges of Uncle Tom–ism when he was photographed hugging President Richard Nixon at the 1972 Republican National Convention.

Birkbeck sorts through Sammy's dabbling in "devil worship," tales of wife swapping, and even the claims of Davis biographer and confidant Burt Boyar that "Sammy knew who killed John F. Kennedy." There's juicy dish aplenty, but time after time the author's workmanlike but uninspired style intrudes: "Sammy was a natural talent, one of those rare people touched by the hand of God." The story may zip, but the prose often plods. Repetition mars the description of the tale's leading characters; more damaging, Birkbeck reconstructs dialogue verbatim from a distance of three decades. There are no footnotes to back up the participants' recall, and no acknowledgment of how wildly memories can vary regarding contentious matters.

According to the note on sources, Sammy's adjutant David Steinberg always refused to discuss Sammy. Nevertheless, when speaking with Birkbeck, Steinberg evidently possessed word-perfect recall of incidents that occurred many years earlier. To wit, Birkbeck recreates the screaming fit that ensued when Davis's arrival to entertain at the 1974 Monaco Red Cross gala had not been accorded what Sammy felt was sufficient respect. " 'Who do they fucking think I am!' he screamed between swigs from a champagne bottle." Princess Grace's cool retort to Steinberg's plea on Sammy's behalf? "Maybe Mr. Davis is just a little too old to be doing this and I suggest he should just get onto his little yacht and toddle off into the sea." One can't help but wonder about Steinberg's instant recall of Princess Grace's exact words so long after the event, or, for that matter, how, without third wife Altovise's participation in the book, Birkbeck can unequivocally claim that "whenever Sammy hosted a late-night orgy and instructed his wife to make love to another woman, she did."

Birkbeck is on firmer ground as he lays out exactly how the high-earning Davis came to leave behind "the largest single open case of an individual taxpayer debt in the nation." Indeed, the real star of the book is not Sammy but dogged attorney Sonny Murray, who was originally retained by Altovise to sort through IRS problems, missing assets, and Davis family dysfunction (which ironically and most notably concerned the alcoholic and irrational Altovise). Dealing with the vodka tippling (out of mayonnaise jars, no less) widow, Murray is portrayed as nothing short of saintly. Unlike Altovise, Murray cooperated with the book, which may partially account for the skewed perspective. Obsessed with regaining her status in Beverly Hills, Altovise emerges as a Cruella de Vil figure, yet sadness at her fate is not hard to summon; when Murray prepared her for an expected onslaught of interviews with a written list of hypothetical press questions, her response to the test query "We heard you were in a mental institution" was a despairing "Every day of my life."

Birkbeck's background as an investigative journalist (he has written three true-crime books) allows him to cleanly lay out Davis's failed investments in dubious real estate ventures and fraudulent tax shelters. What's sorely missing, however, is a true analysis of how Davis succeeded professionally, and why the needy, generous, infuriating star is worthy of a reading audience's rooting interest. Scant attention is paid to the wildly conflicting responses Davis engendered within the African-American community; such historical context regarding his pioneering efforts would have lent resonance to the often mind-boggling accounts of his financial malfeasance. As it is, Birkbeck never fully succeeds in deconstructing the wild contradictions in Davis's personal and professional lives.

In the words of Sammy's daughter Tracey, "Here we are, seventeen years after my dad died, and his estate is still being mismanaged into oblivion. It's horrible." It is indeed a saga of incompetence and neglect, and while readers fascinated by the Rat Pack's seemingly inexhaustible hold on the collective imagination may find the book worth a look, those seeking a true deconstruction of Sammy Davis Jr. and his prominent place in 20th-century American culture will have to wait for a more incisive biography.