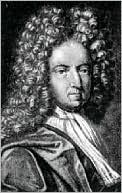 On this day in 1703 Daniel Defoe was sentenced to the pillory for having written the "seditious libel," The Shortest Way with Dissenters. This satiric pamphlet had suggested that instead of passing laws against all religious Dissenters — Protestant "Nonconformists," such as Defoe — the quicker, cleaner solution would be to kill them. To Defoe's surprise and horror, his proposal was taken seriously and even embraced by many of the Anglican Tories in office. When everyone realized that it was a put-on, and that the anonymous author was Defoe, they flushed him from his hiding spot and took revenge for their embarrassment: a hefty fine, time in Newgate Prison, three days in the pillory at Charing Cross.
This was excessive punishment, but it could have been worse. Titus Oates, convicted eighteen years earlier of perjury for his "Popish Plot" accusations, was whipped from Aldgate to Newgate on Wednesday and from Newgate to Tyburn on Friday; on top of this, he was sentenced to stand in five different pillories scattered about London — annually, for the rest of his life. As Oates was still alive in 1703, he would have taken his annual place at Charing Cross just ten days after Defoe. And he might very well not have been alive: some of those pilloried had died from the pelting of the crowd, or been permanently disabled. The pamphleteer William Fuller, pilloried a few weeks before Defoe, said that being "stifled with all manner of dirt, filth and rotten eggs" was worse than his thirty-nine lashes. Earlier Puritans convicted of stepping over the line with their writings had had their ears cut off while in the pillory, or nailed to the wood.
Defoe was aware of all this, and out of courage or fear used it as inspiration for "Hymn to the Pillory," written while waiting in prison: "Tell us, great engine, how to understand / Or reconcile the justice of this land." He managed to get his new satire printed and hawked to those who had come to witness or participate in his punishment for the first one, a literary gamble which gave enough pleasure that instead of throwing stones the crowd drank to Defoe's health and decorated his pillory in flowers.
---
Daybook is contributed by Steve King, who teaches in the English Department of Memorial University in St. John's, Newfoundland. His literary daybook began as a radio series syndicated nationally in Canada. He can be found online at todayinliterature.com.