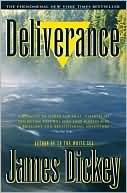 James Dickey's Deliverance was published on this day in 1970. Although he was primarily a poet — thirty collections by the time of his death in 1997, among them a National Book Award winner — Dickey's first novel was a bestseller, and the subsequent movie (screenplay by Dickey) was a box-office hit. The tale of four suburbanites on a manly descent into camping nightmare is described as "an allegory of fear and survival" and "a Heart of Darkness for our time" by the critics.

In his Summer of Deliverance: A Memoir of Father and Son, Christopher Dickey describes his father's success with the book and movie as its own, enduring nightmare. The title of Christopher's book is tied to a summer during his mid-twenties when he worked as a stand-in on the set of Deliverance, watching "amazed and amused, proud and a little appalled" as Dickey "loomed larger and larger in the book reviews, the magazine articles, on talk shows and publicity tours, combative and funny, drunk and outrageous and ruthless." Christopher eventually decides that his father is "a great poet, a famous novelist, a powerful intellect and a son of a bitch I hated."

Christopher became a well-known war correspondent (he's now head of Newsweek magazine's Paris bureau); his father became progressively alcoholic and erratic, and the two hardly communicated for twenty years. But, as the title of Summer of Deliverance suggests, they reconciled during Dickey's final months. During this time, Christopher would fondly recall to his father the family's camping-hunting holidays, one of them warmly described by Dickey himself in the 1973 New York Times article "Camping":
…What happened then was wonderful. Every cocktail bar in the world blew away like chaff. We came around a bend, and to the left was a kind of cliff that opened on a huge, far-down field of conifers. Among the trees, spaced in a lovely, random arrangement, were deer. Dozens of them, all browsing, and then pausing to look around, with their incredibly delicate, dreaming alertness.… I turned and saw my youngest boy's hand over his mouth in wonderment, and I myself, in the manner of the young Wordsworth, felt that I had better hang onto a tree or I would take off straight up. This is the wilderness, I said to myself. This is what we came for, though we don't know what it is.
---
Daybook is contributed by Steve King, who teaches in the English Department of Memorial University in St. John's, Newfoundland. His literary daybook began as a radio series syndicated nationally in Canada. He can be found online at todayinliterature.com.