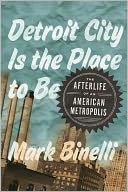 When people ask me what we're looking for in a Discover title, I have a one-word answer.
Verve.
It's a combination of place and voice and style. It's fluid prose (not purple) that swings and slides and pulls the reader into and through the story – fiction or non. That's just for starters.
It's Mark Binelli's firecracker piece of long-form reportage, Detroit City is the Place To Be, an incisive and wryly comic exploration of an American City left for dead.
He discusses what he found when he moved back home to Detroit and what the city really needs, among other things, with Discover Great New Writers.
You are a native Detroiter. What inspired you to write about your hometown at this point in time?

I always knew I'd write about Detroit in some fashion, but I suppose I'd just assumed that it would take the form of a novel. When the recession hit, though, and Detroit became the symbolic (and in certain ways literal) Ground Zero of the imploding economy, truth seemed impossible to top: Detroit is really the story of our time, and one of the most important American stories of the 20th century. So, that, and then seeing so many journalists with no connection to the city whatsoever filing dispatches from the ruins of the Packard Plant.

After writing this book, do you feel more connected to Detroit than you did before?

Definitely. I mean, even after I moved away in 1993 I'd never stopped coming home to visit – my entire family still lives in the area – and the city certainly had a weird hold on my imagination, as it does with so many people. But actually moving back and living downtown, making an entirely new circle of friends, and most important seeing firsthand what the 700,000 people who remain in the city do to get by every day all wound up binding me to Detroit in new ways that, honestly, I'd never expected. I eventually felt like I had to leave to finish the book – living there simply put me too close to my subject, and I needed distance when I finally got elbows-deep into the writing—but now I get back whenever I have the chance.

In the eyes of many people, Detroit's fate as an urban failure has been sealed. But your book suggests that the city could become something radically different. How do you see Detroit changing?

Not quickly enough, unfortunately. But it's true, there's some real reason for hope in Detroit today — I think, perversely, because of its status as the ultimate urban failure. If you're a middle-of-the-road failed city, you're one of many, but Detroit is an opera, it's Mount Everest, the failed city people who fix failed cities want to conquer. So there are any number of bold ideas that, if properly enacted, could be transformative: the repurposing of vacant land as green space or farmland; transitioning the local economy from basically being a single-industry town to fostering a much broader range of entreprenurial activity; the notion of finally reckoning with and embracing the "brand" of Detroit, which as we've noted continues to have such a grip on people

What would the city need in order to help it become "the place to be"?

This is where it gets tricky. Detroit needs resources, first and foremost, and there are none. So you can't seriously talk about a Detroit comeback until there is enough money to properly staff the police and fire departments, to tear down the abandoned buildings and houses, to fund basic city services like public transportation and streetlights. It's a mess, and I don't really see how that changes, unless Washington decides to dedicate a Marshall Plan-sized chunk of redistributed wealth to rebuilding Detroit as if it's post-war Tokyo.

I try to be optimistic, but that strikes me as unlikely. So I don't know. The title comes from a Ted Nugent song ("Motor City Madhouse") which is basically about going wild in a lawless city. In that sense, Detroit is already the place to be, in ways that are good (room for all manner of experimentation) and not so (criminals tend to like lawless places.)

In your book you mention that as your research completed friends with entrepreneurial aspirations began asking you if the time was ripe to move Detroit. What advice would you give those friends today?

I'd say don't go there expecting Detroit to be "gritty" in the way that Williamsburg or Silver Lake is "gritty." Your car might be broken into, or it might be stolen; you have to be careful; you have to understand that normal city services aren't forthcoming, and despite what boosters say, there are only a handful of decent grocery stores and all sorts of other inconveniences. Beyond that, you have to respect the history of the city – it is most certainly not a blank canvas awaiting the reimagining of artists and bohemians; there are people who've been living and struggling in Detroit for decades.

That said, I love Detroit, and the city needs whatever help it can get. So I'd say by all means come check it out. And if you're a certain kind of person, you might actually want to stick around. I know I did.

Who have you discovered lately?


In terms of fiction, I just came across George V. Higgins, a crime novelist with a great playwright's ear for dialect. He's like a Boston David Mamet. I read Cogan's Trade and The Digger's Game, both from the early Seventies, and just reissued by Black Lizard in trade paperback editions with pleasingly bright covers. Earlier this year, I loved Yannick Murphy's The Call. Her protagonist is a rural veterinarian, and the book is structured as a series of technical ledger entries in his doctor's journal, which sounds terribly exciting, I know, but trust me. The book is formally brilliant; there's also a UFO.

As for nonfiction, on a recent drive from New York to Detroit, I very much enjoyed the audiobook version of DT Max's David Foster Wallace biography. I'm also very happily making my way through Maureen McLane's My Poets, a wonderful, deeply idiosyncratic (and breathtakingly smart) collection of essays about her favorite poets that manages to feel like a long prose poem itself.
Cheers, Miwa
---

Miwa Messer is the Director of the Barnes & Noble Discover Great New Writers program, which was established in 1990 to highlight works of exceptional literary quality that might otherwise be overlooked in a crowded book marketplace. Titles chosen for the program are handpicked by a select group of our booksellers four times a year. Click here for submission guidelines.