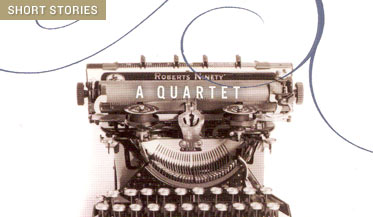 "History," wrote Henry James in a 1910 letter to his amanuensis Theodora Bosanquet, "is strangely written." This casual aside could easily serve as the epigraph of Cynthia Ozick's superb new collection Dictation, which concerns itself with lost worlds evoked by languages — languages which separate and obscure as readily as they bind. It can be risky to look for connective tissue between stories written years apart and published in magazines ranging from The Conradian to The New Yorker. But themes of deception, posterity, and above all, the glory of language — at once malleable and intractable — knit together this quartet, recasting the whole as the harmonious product of Ozick's formidable talent.

In the mischievously witty title story, Ozick imagines a literary conspiracy engineered by Bosanquet and Joseph Conrad's typist Lillian Hallowes. Thrusting these bit players to center stage, she has fashioned a wry meditation on posterity and its discontents. Of Bosanquet, much is known. Her celebrated pamphlet "Henry James at Work" was published by Leonard and Virginia Woolf's Hogarth Press. Of Hallowes, a good deal less is known, and although there is no record of their having met, this hasn't stopped Ozick from having her fun. (In a note addressing historical inaccuracies, Ozick declares: "Never mind, says Fiction; what fun, laughs Transgression; so what? mocks Dream.")

And so, it's on a rainy night in January 1910 that the two women meet in the shadow of their masters, as Bosanquet retrieves a forgotten umbrella. ("The forgotten umbrella! Worn device, venerable ruse!" nudges Ozick, echoing both Howard's End and James's penchant for melodrama.) Bosanquet convinces a reluctant Hallowes to join her for tea, and the two ladies compare notes. Bosanquet is voluble, rapturous, extolling James's greatness even as she nurses her own ambitions:


We have too much in common. We are in an extraordinary position. Mr. James and Mr. Conrad are men of genius and posterity, and posterity will honor us for being the conduits of genius.

In contrast, the modest Hallowes's devotion to Conrad is animated by a more prosaic motive: Love. A wallflower who lives alone and nurses her invalid mother, Hallowes is a steadfast, long-suffering servant to greatness. It takes patient cultivation for Bosanquet to enlist her reluctant accomplice in her scheme, which calls for each to take a sentence from the stories their masters are presently writing, and exchange them, placing each seamlessly in the other's — the literary equivalent of engraving "Kilroy was here."

Bosanquet finally succeeds, preying on Hallowes's jealousy toward Mrs. Conrad, and thus do "Theodora and Lillian humanly, mindfully, with exacting intent, dictate the outcome of their desires." In the process, Ozick enjoys a double joke — by the act of writing Dictation she grants these women the posterity that has eluded them, even as Bosanquet's alleged handiwork cannot be easily disproved, as an examination of Conrad's "The Secret Sharer" and James's "The Jolly Corner" attests.

If "Dictation" is the collection's fiery head, "Actors" is its expansive yet elegiac heart, a Borscht Belt tragedy that grieves for lost worlds and laments the inability of language to hold on to the past. Matt Sorley is an aging, out of work character actor, more interested in "studying" people than working for them, to the consternation of his wife Frances who supports them by creating crossword puzzles. Matt gets a break when he's invited to star in an updated version of Lear directed by a jeans-and-sweatshirt-wearing wunderkind named Ted Silkowitz, though there's a catch — the writer has just died and the script is "raw." But that suits Silkowitz's intentions, as he wants to point the title role toward the recesses of the past, evoking the oversized style of Yiddish theatre, a move the less-is-more realist Matt resists. (Ozick is at her Woody Allen funniest in these cross-generational exchanges.) But a visit to the playwright's elderly father — himself a giant of the Yiddish stage — unhinges something in Matt. Before long, Matt is "teaching himself to howl," and his heartbreakingly comic apotheosis leaves us with the spectacle of a lost world as foreign to the opening night audience as the marvelous scratchings — "metamerism," "oribi," "glyptic" — that populate Frances's puzzles. Who, Ozick seems to ask, will remain to bear witness to this lost tradition? Who will understand this language?

That question of sustaining tradition also informs "At Fumicaro," the most challenging of the four pieces, in which Ozick turns from her familiar Jewish milieu to Catholic symbolism. Frank Castle, an American Catholic scholar arrives in fascist Italy as part of a conference on "The Church and How it is Known." In his quarters, Castle finds his chambermaid Viviana, vomiting violently. Her English is broken: "No belief!" she mutters repeatedly. Despite the difficulty communicating, Castle is drawn to her vulnerability and, to his surprise, he quickly succumbs to temptation:


In less than two hours Frank Castle had become the lover of a child. He had carried her into his bed and coaxed her story from her, beginning with his little finger's trip across her forehead.

Castle learns that Viviana has been impregnated by one of her mother's lovers, and he resolves to marry her and bring her to America. "It was his obeisance. It was what brought him to Italy. . . . Her tragedy was a commonplace. She was a noisy aria in an eternal opera."

But first Castle must present his paper on evil, on "men and women who had caught sight of demons." And when the conference's last speaker, Percy Nightingale (names do some heavy lifting in this tale), turns up, Castle wonders if he's met evil and is left, aptly, to battle his demons — coming to understand the nature of his "penance" only at the end of this complex and sometimes opaque tale.

In the final story, "What Happened to the Baby?" — a sharp and often amusing portrait of la vie Boehme in Greenwich Village — Ozick again ponders languages and how they separate even those struggling to share meaning. Phyllis, her first-person narrator, sets about unraveling the family mystery surrounding her Uncle Simon, the founder and champion of a new language called GNU, conceived in response to Esperanto. Simon is now living in squalor, and Phyllis, newly arrived at NYU, is charged with looking after him, during which time she learns what happened to Simon's long deceased infant daughter Retta. What she discovers undermines everything she has been raised to believe about her uncle and his work:


This was the start of Simon's grand scheme — the letters, the outcries, the feverish heaps of philological papers and books with queer foreign alphabets on their spines. Yet in practice, it was not grand at all; it was extraordinarily simple to execute. Obscure lives inspire no inquisitiveness.

"What Happened to the Baby?" feels the slightest of the four tales presented here, but that might be merely an accident of juxtaposition, its domestic dramas diminished by the long shadows of the lost worlds evoked by its predecessors. Yet in all four tales, Ozick focuses her abiding intelligence on the limits of understanding and the fungible relationship between words and truth, and so the closing of "What Happened to the Baby?" serves as an effective coda to this meditation on the double edges of language, as Simon's wronged wife inquires, "Lie, illusion, deception, she said — was that it truly, the universal language we all speak?"