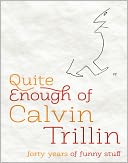 Joan Didion was born on this day in 1934, and Calvin Trillin was born on this day in 1935. In addition to being friends, the two writers are linked by their acclaimed memoirs, published just a few months apart, about the deaths of their spouses — Didion's The Year of Magical Thinking (2005) and Trillin's About Alice (2006).

More recently, Didion has published two collections of essays and, just last month, Blue Nights, compulsively exploring another devastating loss, that of her daughter, Quintana. Both of the collections include "On Keeping a Notebook," an essay from the sixties in which Didion reflects, or hopes, that young Quintana will grow up to be different than her mother:
Although I have felt compelled to write things down since I was five years old, I doubt that my daughter ever will, for she is a singularly blessed and accepting child, delighted with life exactly as life presents itself to her, unafraid to go to sleep and unafraid to wake up. Keepers of private notebooks are a different breed altogether, lonely and resistant rearrangers of things, anxious malcontents, children afflicted apparently at birth with some presentiment of loss.
Trillin's most recent book is a return to sardonic form in all ways, Quite Enough of Calvin Trillin being a four-decade sampler of his humor. The collection begins with "Chubby," a 1998 piece in which Trillin reflects that his happy childhood precluded any attempt at the memoir game. "It's common these days" he writes, "for memoirs of childhood to concentrate on some dark secret within the author's ostensibly happy family. It's not just common; it's pretty much mandatory. Memoir in America is an atrocity arms race."

But Trillin has a go anyway, offering the trauma of discovering, years after the event, that Chubby the family dog was put to sleep and not, as given out by his parents, put out to pasture on a welcoming farm. The piece concludes with another, even more upsetting revelation: "The collie was not called Chubby," smirks Trillin's sister, Sukey. "The collie was called George. You were called Chubby."
---
Daybook is contributed by Steve King, who teaches in the English Department of Memorial University in St. John's, Newfoundland. His literary daybook began as a radio series syndicated nationally in Canada. He can be found online at todayinliterature.com.