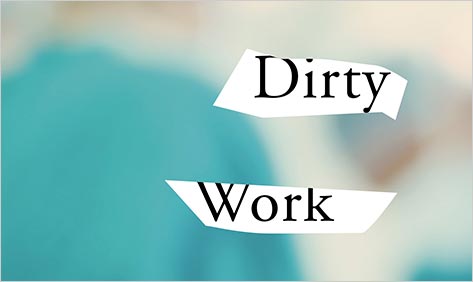 What Gabriel Weston attempts to capture in her slim first novel, Dirty Work, is nothing less than the truth — of how it is to be a doctor, a human being, and a human body. "Every surgeon picks the organ they will spend the whole of their career protecting," Weston writes. "Gynecologists have the womb to look after.  A piece of tissue as small as a fist. . . . And each of us has to do something ruthless to keep our patients safe." The novel's nightmarish prologue, however, shows the narrator, Dr. Nancy Mullion, failing spectacularly. "I have never seen so much blood," she reports of the moment when she freezes up during a routine operation. "My eyes can't take in the redness to start with." Another surgeon rushes in to save the patient's life, but weeks later the woman remains in a coma, and Nancy faces a medical tribunal that will decide whether she will be "undoctored" or allowed to continue to practice.
"The room is perfectly square and family-planning-clinic beige," she notes as the panel chairwoman enters. "I see tiny holes in the pile where her suede aubergine heels wound the carpet."  The forensic sharpness of Weston's descriptions produces a jittery sensation of anxiety and hyper-awareness; each detail is so keenly noted that the pages hum with tension. Some scenes, in addition, are not for the fainthearted: the tumor operation, for example, or the bowel excavation. A surgeon herself in London, Weston shuttles the reader between her clinical terrain of blood, feces, bone, and tissue and an everyday world made strange and oddly precious by the contrast. "[T]he day arrives like a watercolor as I cycle so that by the time I arrive at the hospital the sky is not quite black but bluish at the edges," Nancy observes before entering "the dark of the ward, where the night-time smells of those sleeping around her still cluster, not yet blown through by the doors that will soon be opening and closing to bring ward rounds, groups of doctors who will swirl this air away, replacing it with their own scent of showers and adrenaline."
Over the course of a month, while she anticipates and endures the interviews that will decide her future, Nancy excavates memories of her childhood in the U.S. and England, of love and disappointment, of becoming a physician. Her trainee self imagines "driving through the brilliant empty night to my hospital where I would sweep sick patients for surgery, ease tricky babies out of their mothers, rescue women from ectopic pregnancies. I thought of the operating theater, that green heaven in which I would clear and console and sort." Which she does, in addition to terminating pregnancies at varying stages of development, a specialization that eventually causes "perpetration-induced traumatic stress" and immobilizing panic: ". . . do not read these next words if you don't want to understand my reality," Nancy warns before describing, in minute detail and over almost six pages, both early and late terminations. "Can I not be allowed to tell this truth, so that it is not only in the wrong hands?" she asks in a bludgeoning conclusion that splinters the crystalline glaze of this beautiful, disturbing novel.