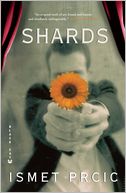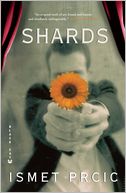 Dear Reader,
The American Academy of Arts and Letters has awarded the 2012 Sue Kauffman Prize for First Fiction to Ismet Prcic for Shards, a Holiday 2011 Discover Great New Writers selection.
A decade ago, Ismet Prcic asked the acclaimed Bosnian emigre writer Aleksander Hemon for advice about writing a life. Prcic paraphrases Hemon's reply: "You have to create a form for the life that exists, not the other way around. If it comes out in these little pieces, that's what it is." The Discover selection committee readers were thrilled that Prcic heeded Hemon's guidance, for it resulted in a rock-and-roll kaleidescope of a novel, pulsing with a kinetic, ferocious energy.
This is the tenth Discover selection awarded a Kaufman prize since the Discover program was founded in 1990. Prcic now joins the ranks of:
Brando Skyhorse, The Madonnas of Echo Park (2011)
Charles Bock, Beautiful Children (2009)
Uzodinma Iweala, Beasts of No Nation (2006)
John Dalton, Heaven Lake (2005)
Don Lee, Yellow (2002)
Nathan Englander, For the Relief of Unbearable Urges (2000)
Michael Byers, The Coast of Good Intentions (1999)
Brad Watson, Last Days of the Dog-Men (1997)
Jim Grimsley, Winter Birds (1995)
Francisco Goldman, The Long Night of White Chickens (1993)
The complete listing of Sue Kaufman Prize for First Fiction winners is here.
(The list of 2012 Literature Award Winners presented by the American Academy of Arts and Letters — including awards to Discover alums Peter Carey, Andre Dubus III, David Mitchell, and Julie Otsuka is here.)
Cheers, Miwa
---

Miwa Messer is the Director of the Barnes & Noble Discover Great New Writers program, which was established in 1990 to highlight works of exceptional literary quality that might otherwise be overlooked in a crowded book marketplace. Titles chosen for the program are handpicked by a select group of our booksellers four times a year. Click here for submission guidelines.