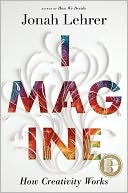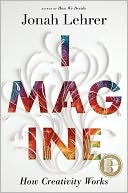 Dear Reader:
Malcolm Gladwell and Joshua Foer aren't the only people buzzing about Jonah Lehrer's new book Imagine: How Creativity Works. Here's just some of what our booksellers have to say:
"Imagine is one of those books that has the power to change the world. It's a book that artists, writers, musicians, comics, CEOs, elected officials, educators, scientists, anyone who wants to create change or something meaningful should read…Exceedingly accessible and readable." –Jessica Valeske, store manager, Tigard, OR
"Lehrer has written about imagination and innovation in ways that are accessible to even the cautious reader and will inspire discussion and sharing of our own creative aspirations. This book flows like a novel yet challenges and enlightens like the best of teachers." – Nathan Dunbar, assistant store manager, Skokie, IL
"Amazingly readable and accessible. … I found myself reading passages out loud to whomever was nearby. …I will be passing this book on to almost everyone I know." – Rosey McArdell, bookseller, Eden Prairie, MN
"Imagine is an engaging, snappy look at a mysterious subject…This book could change how we work, think, interact with each other, and educate our children." –Suzette Davis, bookseller, Ocala, FL
"Try to go an entire week without dropping how the Swiffer was invented into conversation… I know I couldn't." –Erin Bruce, store manager, Salisbury, MD
"I really, really liked Imagine. …I usually read fiction and mysteries, with an occasional biography… This book was riveting, full of great ideas and most importantly told in a way that non-science folk (like me!) could understand and find interesting… Important and timely…" –Mark Furlow, store manager, Deptford, NJ
"This is a great read from a talented writer and the perfect book to inspire the perpetually uninspired."
–Stacie Richards, merchandise manager, Ft. Worth, TX
"A unique and surprising read for both science and pop culture readers!" –Rob Joiner, bookseller, Carmel, IN
"Fascinating inspiration… Lehrer proves that an interdisciplinary approach has extraordinary results."
–KellieAnne Miele, district manager assistant, District 98
"A mix tape of science and pop culture… [An] irresistible read." –Robin Widom, bookseller, Phoenix, AZ
"Lehrer keeps the reader constantly involved… This book has something for everyone and every reader will enjoy Lehrer's attempt to delve into the mysterious brain and its creative processes… Imagine is definitely a book that's hard to put down." –Hilary Senner, district manager assistant, District 101
"An extremely enjoyable book which both educates and entertains." –Stacie Dowdy, assistant store manager, Charlottesville, VA
"This fascinating account of how and why creative ideas can spring out of nothing is as engrossing and engaging as any work of fiction I have read." –Miriam Bauer, bookseller, Deerfield, IL
"This book changed the way I think about thinking. I am already recommending it to friends."
–Cheryl Scott, bookseller, Augusta, GA
"Like taking a breakneck speeding roller coaster through the brains of some of my favorite artists – a really exciting read." –Debi Lampert-Rudman, community relations manager, Princeton, NJ
"I thoroughly enjoyed reading this book, and beyond hand-selling it at work, will be using it at home in my own creative endeavors." –Nicole Brough, receiving manager, Bourbonnais, IL

"Jonah Lehrer has written a very readable book based on scientific thought combined with fascinating examples of the creative spirit." – Maggie Wardlaw, bookseller, Los Angeles, CA
Fascinating look at creativity; what fosters it, and what can be done by businesses, schools, etc. to use creativity effectively. Highly recommended. –Suzze Tiernan, bookseller, Northville, MI
There's also a fantastic interview with Jonah Lehrer on the B&N Review.
Cheers, Miwa
---

Miwa Messer is the Director of the Barnes & Noble Discover Great New Writers program, which was established in 1990 to highlight works of exceptional literary quality that might otherwise be overlooked in a crowded book marketplace. Titles chosen for the program are handpicked by a select group of our booksellers four times a year. Click here for submission guidelines.