Dear Reader,
The 2012 Commonwealth Book Prize winners have just been announced, and among the 5 recipients are Holiday 2011 Discover pick The Dubious Salvation of Jack V. by Jacques Strauss and Summer 2012 Discover pick The Legend of Pradeep Mathew by Shehan Karunatilaka (published as Chinaman in the UK & Commonwealth). The prize is awarded for a best first book representing the 5 regions of the Commonwealth states.
More information about the Commonwealth Book Prizes is here.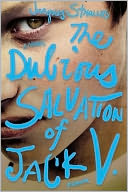 Meet Jack V. Age 11, half English and half Afrikaans, he lives in Johannesburg's northern suburbs with his family, which includes Susie, their maid and Jack's surrogate mother. As the end of apartheid nears, civil war looms, but Jack's sure he has every aspect of his life well in hand. He speaks in absolutes; his favorite phrase is "everyone knows." But what Jack doesn't know is that decisions, actions, and words have consequences. When Susie's teenage son, Percy, comes to live with the family, unpleasant complications accrue from an impulsive act of revenge, and Jack is blindsided by events in this darkly wry novel reminiscent of early Evelyn Waugh or Kingsley Amis.
"I was completely gobsmacked to be shortlisted so I can't really describe how surprised and happy I am to have won. I'm not the most impartial person in the world, but I love books about Africa – which is why I have always followed the Commonwealth prize. It's introduced me to so many books and authors I would otherwise not have known about. It's a strange, dark and amazing place that gives you stories from Conrad and Achebe and I think there are millions more stories to tell. I hope this prize means I can add a further story or two of my own." — Jacques Strauss, on receiving the 2012 Commonwealth Book Prize (Africa)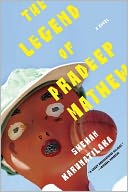 Sir Lankan sportswriter W.G. Kaunsena is dying; his doctor has told him that he must quit drinking, but books and booze have kept W. G. alive — albeit alienated from his wife and son (though he loves them both), and slightly deluded about work and the world around him. Madcap, yet trenchant – with emotional echoes of Joseph O'Neill's Netherland and Frederick Exley's A Fan's Notes — The Legend of Pradeep Mathew is as much about family, country, and identity as it is about cricket.

"When I wrote Chinaman I didn't expect anyone outside of Colombo to get it. So I wrote it as if I was speaking to one person, someone who didn't live that far from where I was sitting. It's been a crazy ride watching the book pick up fans across Asia, Africa and Europe. And witness readers who have no interest in cricket or Sri Lanka responding to the book. I'm very surprised and very grateful." — Shehan Karunatilaka, on recieving the 2012 Commonwealth Book Prize (Asia)
Congratulations to all.
Cheers, Miwa
---

Miwa Messer is the Director of the Barnes & Noble Discover Great New Writers program, which was established in 1990 to highlight works of exceptional literary quality that might otherwise be overlooked in a crowded book marketplace. Titles chosen for the program are handpicked by a select group of our booksellers four times a year. Click here for submission guidelines.