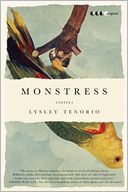 Dear Reader: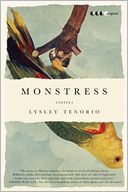 I'm absolutely mad for Lysley Tenorio's stories, with their marvelously unconventional set-ups, black humor, and poignant, profound outcomes. In Monstress, cultures clash, the absurd intersects with human frailty, dislocated characters seek love (or at the very least, understanding) — and emotional truth is revealed.
Discover alums have high praise for Lysley Tenorio and Monstress:
Peter Ho Davies (The Welsh Girl): "A writer of sly wit and lively invention…. Each story is a confession of love betrayed, told with a mournful, austere tenderness as heartbreaking as it is breathtaking."
Anthony Doerr (The Shell Collector, Winner of the 2002 Discover Award for fiction): "A wonderful read: poignant, imaginative, somehow sad and funny all at once."
Ben Fountain (Brief Encounters with Che Guevara, Winner of the 2006 Discover Award for fiction): "A wonderful story collection that's as wide and rich and complex as the geography it spans…[Tenorio] sees everything — the absurd and the tragic, the funny and the profound — and delivers stories that are as true to life as any you will ever read."
Jessica Hagedorn (Dogeaters): "Tenorio is a deep and original writer, and Monstress is a beautiful book."
The adolescent narrator of Tenorio's short story Superassassin — a boy who uses comic books to make sense of his life — reminded me a little of Oscar Wao, the titular character in Junot Díaz's incandescent, Pulitzer-prize winning novel The Brief Wondrous Life of Oscar Wao. (Another one of my favorite story collections is Diaz's sharp debut, Drown, which was a Discover pick in 1996.)
I can't wait to see what Tenorio does next.
Cheers, Miwa
---

Miwa Messer is the Director of the Barnes & Noble Discover Great New Writers program, which was established in 1990 to highlight works of exceptional literary quality that might otherwise be overlooked in a crowded book marketplace. Titles chosen for the program are handpicked by a select group of our booksellers four times a year. Click here for submission guidelines.