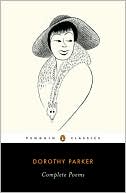 Dorothy Parker died on this day in 1967, aged seventy-three. Having tried to remain whimsical about death when alive — her mock-epitaphs include "Excuse My Dust" and "This Is on Me" — Parker would have enjoyed the story of her ashes. They sat on a shelf in a New York crematory for six years, and then in a filing cabinet at her lawyer's for another fifteen. When this disregard was discovered in 1988, and the NAACP, heir to Parker's estate, announced that they would enshrine the ashes in a memorial garden at their Baltimore headquarters, many smiled at the thought of the Scotch-and-cigarettes Parker at rest in some shady glen. Even ABC got in on the joke, reprising for their nightly news report Parker's response when asked to use the word horticulture in a sentence: "You can lead a horticulture, but you can't make her think."

Parker left her estate to the NAACP — initially to Martin Luther King, Jr., but he was murdered months after her own death — because, as the memorial in the Baltimore garden puts it, she was a lifelong "defender of human and civil rights." As examples, she was arrested for demonstrating against the Sacco & Vanzetti executions in 1927, and her widely anthologized story "Arrangement in Black and White," published the same year, skewers the Jim Crow attitudes of the Smart Set. But some speculate that a degree of guilt seems likely in the bequest, given that another of Parker's lifelong habits was a shoulder-shrugging cynicism. Her "Observation," published as one of her "Ballads of a Great Weariness" in Enough Rope (1926), reflects at least a degree of self-observation, and an attitude persistent throughout her writing:
If I didn't care for fun and such,
I'd probably amount to much.
But I shall stay the way I am,
Because I do not give a damn.
Parker's ambivalence about her convictions may have kept her alive. The biographers tally perhaps five suicide attempts — the uncertainty caused by the lack of sincerity detected in some of the attempts. Hemingway was among the doubters, as evidenced by his 1926 poem about Parker, "To a Tragic Poetess." Read in public and behind her back, it starts, "Oh thou who with a safety razor blade / a new one to avoid infection / Slit both thy wrists / the scars defy detection…." The two writers were sometimes friendly and sometimes involved in the same sorts of causes, but one of Parker's last letters is a note to a friend a few days before her death asking, "Did Ernest really like me?"
---
Daybook is contributed by Steve King, who teaches in the English Department of Memorial University in St. John's, Newfoundland. His literary daybook began as a radio series syndicated nationally in Canada. He can be found online at todayinliterature.com.