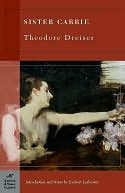 Theodore Dreiser was born on this day in 1871. Few critics have praised Dreiser's writing style — F. R. Leavis famously observed that Dreiser wrote as if he did not have a native language — but few have denied that his powerful novels raise important American themes. These, says Dreiser in his memoir Dawn, were born of hard-won experience. The twelfth of thirteen children, he grew up in Terre Haute, Indiana, in oppressive poverty. His incapable father was tyrannical and religious; his mother struggled to make ends meet by taking in lodgers or washing; the kids were farmed out to menial employment or sent to the railway yards to scour for coal. Clyde Griffiths, the hero of An American Tragedy, grows up in poverty and religion, and with disastrous longings:
Oh, the fine clothes, the handsome homes, the watches, rings, pins that some boys sported; the dandies many youths of his years already were! Some parents of boys of his years actually gave them cars of their own to ride in. They were to be seen upon the principal streets of Kansas City flitting to and fro like flies. And pretty girls with them. And he had nothing. And he never had had.
Dreiser includes in Dawn a Sister Carrie sort of tale told to him by one of his sisters, sent to town with a precious dollar to buy a pair of slippers:
In the first shoe store I went into, there was a young drummer standing about, only I didn't know he was a drummer. The clerk was out, and after looking me over, this man came over and said he would wait on me. "How much did you want to pay for the slippers?" he asked. "I just have a dollar," I replied. "Look at these," he said, and opened a bag or small trunk in which he kept his samples…. "How much are these?" I asked. "Well, if any of them fit you, you can have them. They're worth four dollars, but I won't charge you anything.…"
The drummer tells her that she is beautiful and that "he would marry me and buy me beautiful dresses" if she would only meet him on the eight o'clock train. She agrees to this, but the trains are too confusing and then the station agent, sensing the situation, sends her home. Along the way, she throws away the precious family dollar, fearing that her mother might find it and ask questions about her new slippers.
---
Daybook is contributed by Steve King, who teaches in the English Department of Memorial University in St. John's, Newfoundland. His literary daybook began as a radio series syndicated nationally in Canada. He can be found online at todayinliterature.com.