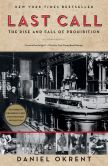 I don't think prohibition is practical. The Germans, you see, prevent it. Look at them. I am sorry to learn that they have just invented a method of making brandy out of Sawdust. Now, what chance will prohibition have when a man can take a rip saw and go out and get drunk with a fence rail?
—Mark Twain
The U.S. Congress passed the Volstead Act on this day in 1919. Prohibition began the following January, and life in America, says Daniel Okrent in Last Call, was changed forever:
In 1920 could anyone have believed that the Eighteenth Amendment, ostensibly addressing the single subject of intoxicating beverages, would set off an avalanche of change in areas as diverse as international trade, speedboat design, tourism practices, soft-drink marketing, and the English language itself? Or that it would provoke the establishment of the first nationwide criminal syndicate, the idea of home dinner parties, the deep engagement of women in political issues other than suffrage, and the creation of Las Vegas? As interpreted by the Supreme Court and as understood by Congress, Prohibition would also lead indirectly to the eventual guarantee of the American woman's right to abortion and simultaneously dash that same woman's hope for an Equal Rights Amendment to the Constitution.
---
Daybook is contributed by Steve King, who teaches in the English Department of Memorial University in St. John's, Newfoundland. His literary daybook began as a radio series syndicated nationally in Canada. He can be found online at todayinliterature.com.