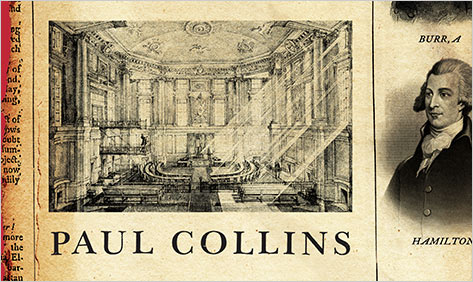 Paul Collins might have called his new book The Murder of the Century had that title not belonged to his previous book, which focused on a grisly 1897 homicide. This time around, NPR's "literary detective" looks back a century earlier, to another lurid New York City crime: the 1799 killing of Elma Sands, a young Quaker woman whose body was pulled from the Manhattan Well, setting in motion a remarkable trial that generated obsessive interest at the time ("Scarcely any thing else is spoken of," one socialite wrote in her diary) but has been largely forgotten until now. Collins's spirited, entertaining book is called Duel with the Devil, and its subtitle — The True Story of How Alexander Hamilton and Aaron Burr Teamed Up to Take On America's First Sensational Murder Mystery — hints at its historical interest: four years before Burr would fire a lethal shot at Hamilton in the nation's most infamous duel, the rival Founding Fathers worked together to defend Levi Weeks, the carpenter charged with Sands's murder.

Before Collins gets to Hamilton and Burr, however, he reconstructs the crime and its aftermath, and his account is greatly enriched by the fact that Weeks's was the first murder trial in the United States to be fully transcribed. As soon as it was over, two brief catchpenny accounts were published to satiate a public hungry for information on the case. William Coleman, the clerk of the court, had been planning all along to write his own account and was outraged that he'd been beaten to the punch. To one-up his competitors, he published a complete, ninety-nine-page transcript of the proceedings (which he'd recorded in the recently popularized art of shorthand), establishing, in Collins's words, "an explosive new form of literature." Collins draws heavily from Coleman's work, using it to lend drama and suspense to his narrative.

Collins has also consulted enough historical sources to create a vivid portrayal of life in Manhattan, which was more small town than Big Apple in the early days of the Republic. Elma lived in her cousin's boardinghouse on Greenwich Street along with Levi, who likely was courting her. She left the boardinghouse on the evening of December 22, 1799, and never returned; by the time her body was found in the well in Lispenard Meadows (today's SoHo neighborhood) on January 2nd, seemingly all of New York was ready to string up Levi Weeks. In the days since she'd vanished, rumors had been flying that Elma and Levi had been intimate but that he'd balked at marrying her.

Luckily for Levi, his brother was the prominent architect Ezra Weeks; luckier still, the chronically debt-ridden Hamilton and Burr — Revolutionary War heroes who'd set up competing law practices in Manhattan — both owed Ezra substantial sums of money for building their competing New York mansions. (The small-town connections hardly end there: Burr was in fact owner of the well where Elma was found, and Elma's cousin had submitted a rejected bid to Burr's company to pump water to the city.) With two of the city's finest attorneys lined up to provide their services free of charge, America's first legal Dream Team was born.

What followed, described by Collins blow by blow, was the "longest murder trial in the city's history," lasting all of two days. The jury took just minutes to acquit Weeks. In a brief epilogue, Collins reports on the post-trial fates of the players, including the fellow tenant of Elma and Levi who he believes was the perpetrator of the crime. Collins runs through Burr's engineering of the Republicans' 1800 election victory (at the expense of Hamilton's Federalist Party), his undistinguished term as Thomas Jefferson's vice president, and, finally, his duel with Hamilton, the outcome of which destroyed his political career and his reputation.
Despite its grim subject matter, Duel with the Devil is a cheerful book. Collins delights in the material, gleefully reporting on Burr and Hamilton's digs at each other and on their caddish reputations ("Nobody needed to ask why Martha Washington had nicknamed her house's tomcat Hamilton," he snickers). And though it's a slim volume, the author is bursting with information, looking to squeeze in every fascinating detail he's unearthed, whether rap sheets for Levi's cellmates in Bridewell prison or a summary of the double bill at a theater Elma and Levi would have passed on their way to church before her death.


After he describes the Weeks trial as a spectacle, he adds, apropos of very little, "It was a spectacle, as surely as the two-shilling show in the side parlor of the City Hotel. There New Yorkers beheld 'The American Phenomena,' a single cage containing the improbable menagerie of 'A Fine Little Bird, A Beautiful Flying-Squirrel, & A Rattle-Snake' — all living, gawkers were assured, in confounding harmony." You can almost hear him thinking, "I've got to get that menagerie in there somewhere!"

Ultimately, you'll be glad he did. Collins is having a good time, and his enthusiasm for this intriguing sliver of American history is infectious.